Gallery ads are a new type of search ad format in Google Ads. Unlike expanded text ads and responsive search ads, gallery ads showcase images in addition to text.
Eligible to show exclusively on Google's mobile search engine results page (SERP), this ad format is now available to some advertisers in beta.
Like a text ad, they can have up to three 30-character headlines. Then, below the display URL, sits a scrollable gallery of four to eight images.
Advertisers can give each image its own unique 70-character "tagline," or short description. After the last photo, a call to action prompts users to click through to the website.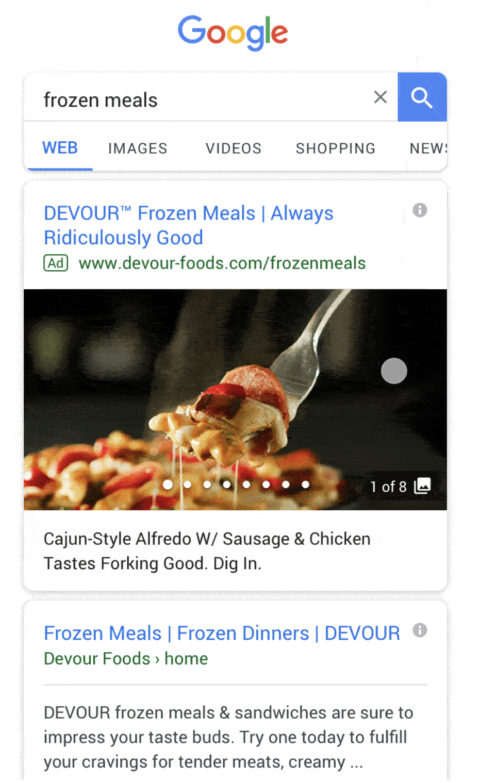 Why are these ads significant?
Gallery ads combine the high-intent of search with the attention-grabbing visuals of display.
Having vibrant images as part of your ad can help capture the attention of your audience. Because ads are competing with other SERP features like carousel results, featured snippets, local packs, and videos, anything you can do to make your ad stand out will give you an advantage.
Plus, because users can scroll through the different images, you can initiate engagement with them right on the SERP. This may increase the likelihood that the user will click through to your site rather than continue scrolling or engaging with a competitor.
Overall, gallery ads are an exciting addition to the mobile SERP, which has already seen significant changes this year.
Where do these ads show up?
Currently, gallery ads can only show in the first position on the mobile SERP. As a result, you won't be seeing them on desktop– for now, at least.
It's important to note that although this ad format incorporates photos and images, they are a type of search ad. They will appear on the Google SERP, not throughout the Google Display Network (GDN).
How does Google charge for gallery ads?
Advertisers will be charged if users click through to the website, or if they scroll through more than two photos.
If someone scrolls through three or more images then clicks through to the site, the advertiser will only incur one charge.
When will gallery ads be available?
First announced at the Google Marketing Live event earlier this year, gallery ads are now available in beta to select advertisers.
If you don't yet have the option to create this type of ad, continue to monitor your Google Ads account. They will likely be available to most advertisers by the end of the year.
If gallery ads are available to you, we recommend you start using them as soon as possible.
Need help creating these ads or managing your Google Ads account? Check out Creative Website Marketing's PPC Management services today.