Next time you do a Google search on your mobile device, you might notice the search results look different than usual.
The reason? At the end of May, Google announced they've implemented several changes to their mobile search engine results page (SERP).
These changes have affected the way both paid ads and organic listings appear on the mobile SERP. Plus, new 3D and augmented reality (AR) features are now available for select searches.
The desktop SERP has not seen any of these changes. For now, Google has implemented the new appearance solely on mobile. This aligns with the company's emphasis on mobile as the future of online advertising, as noted in this year's Google Marketing Live.
Because Google captures 95% of the mobile search engine market in the U.S. (Statista), marketers should pay close attention to this update, including its potential impact on their website traffic and ad performance.
So, what exactly has changed, and how will it affect digital marketing?
Changes to Organic Results
A prominent feature of the new mobile SERP involves favicons– small icons located next to the search result, representing the specific website or brand.
Intended to make the user experience (UX) easier, favicons help users differentiate the various organic listings. They also let users more easily identify websites and brands they recognize. Although the icons are small, they add more color and visual engagement to the SERP.
Businesses can define their own favicon to control what shows up in the search results. Learn how here.
Another change to the organic results is the way the URLs are displayed. Instead of showing a display URL and page paths located below the site's headline, the new SERP will show breadcrumbs above the headline.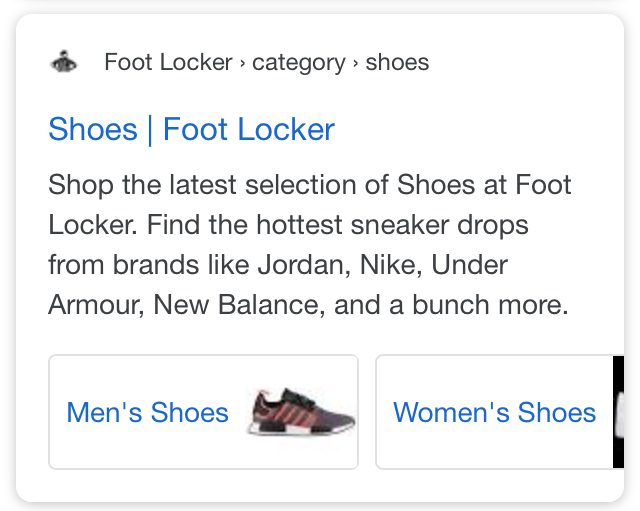 Impact on Organic Strategy
Because favicons are typically a company's logo, this introduces an additional element of branding into search results. Therefore, growing brand awareness may become even more of a point of emphasis for businesses going forward.
Furthermore, organic traffic has been impacted in recent years as Google becomes more of a pay-to-play platform. With ads, featured snippets, and other features becoming more and more dominant at the top of the mobile SERP, organic results are getting pushed further down.
Therefore, it's more important than ever for companies and marketers to monitor organic traffic from mobile. If these traffic trends show a consistent decline, businesses may need to consider developing a paid advertising strategy.
Changes to Paid Ads
In addition to organic listings, the new mobile SERP has affected the appearance of paid ads.
Ads are still identified by a small "Ad" label in the upper left corner. However, on mobile, these ad indicators are now black instead of green. Also, the green box outlining the ad label is no longer present.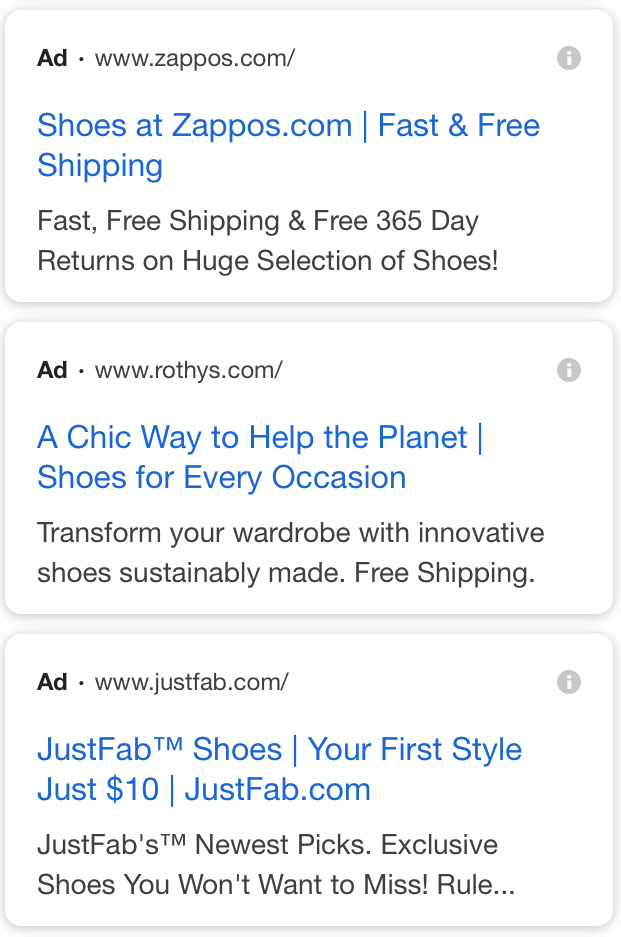 Note that the ad label is in the same position as the favicons on organic listings. As a result, the PPC ads blend in more with organic listings and appear more native to the SERP.
Impact on Paid Advertising
Because of the increasingly natural appearance of ads, marketers could potentially see an increase in ad clickthrough rate (CTR) on mobile devices. Other metrics may be affected as well. Therefore, digital marketers should monitor their Google Ads accounts to identify the impact these changes may have on performance.
New 3D & Augmented Reality Feature
One of the coolest parts of this revamped mobile SERP is the announcement of new 3D and augmented reality (AR) capabilities.
Although currently limited to specific search queries, this is a fascinating indicator of what's possible with the future of mobile search.
With this new feature, users can search for certain animals like "shark," "tiger," "turtle," or "cat" on their Android or iPhone. As they scroll down the SERP, there's an option to view the animal in 3D. Users can click that and toggle to the AR screen, which prompts the phone's camera to open.
Users will then see a 3D version of the animal appear on the screen, as if it were in the room with them. The animals move, too. The cat, for example, licks its paw and (much like a real cat) even "sat" right on my keyboard.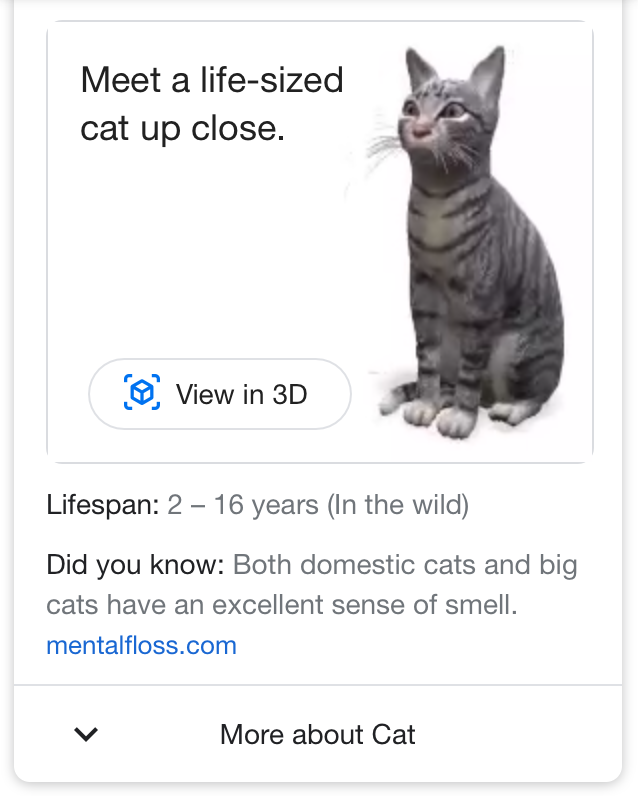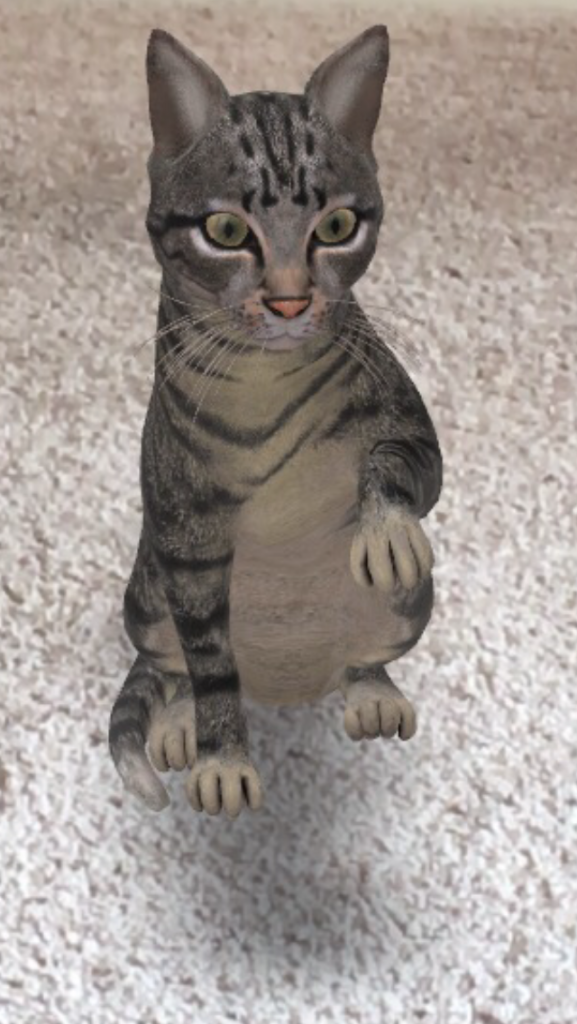 Impact on Digital Marketing
While this may not have much functionality at the moment other than being fun to play around with, as the feature develops and expands, it could end up having a big impact for advertisers.
By allowing users to visualize and engage with a product directly from the SERP, this could become a new, innovative way for businesses to connect with consumers.
Looking for more digital marketing news? Check out our infographic + summary of the latest digital marketing updates in 2019.
Creative Website Marketing is a digital marketing agency in Nashville, TN, helping businesses throughout the country execute strategic brand awareness + lead generation efforts.