The annual Google Marketing Live event took place on May 14, 2019. The event, as usual, included the announcement of innovative new products and features.
As digital marketers, we found the Ads Innovation Keynote especially relevant. Google used the almost 75-minute presentation to discuss not only new products but also its approach to marketing trends, its commitment to user privacy, and its vision for the future of online advertising.
Below, find a complete recap of the Google Marketing Live Ads Innovation Keynote from Creative Website Marketing.
3 Marketing "Revolutions"
Before launching into new product announcements, Google's Senior Vice President and Chief Business Officer, Philipp Schindler, set the stage for the event by identifying 3 key areas of digital marketing that are driving Google forward:
Mobile

Machine learning

Privacy
Mobile
Mobile has become the primary platform for consumer engagement. Trillions of searches occur every year on Google, and over half of them happen on mobile devices. The Google assistant is already on more than a billion devices worldwide.
Google will continue innovating new ways to enhance mobile engagement, including voice search, augmented reality, and more.
Machine Learning
In recent years, the advancements in artificial intelligence (AI) and machine learning technology have been fast and profound. Schindler used the example of Google's language translation feature.
Just a few years ago, you'd have to manually type words or phrases into Google Translate to get a result. Now, you can simply point your camera at anything written in a different language, and read it as if it were written in your own language. Your phone can even read it to you.
Machine learning has also allowed for vast innovations in digital marketing. In fact, AI has made many of the new Google products announced at this event possible.
Privacy
Conveying its efforts to respect and protect user data, Google emphasized and reiterated the importance of privacy throughout the keynote. For example, Schindler stated that Google is continuing to "heavily invest" in tools like Analytics and Ads Data Hub that are built with privacy at their core.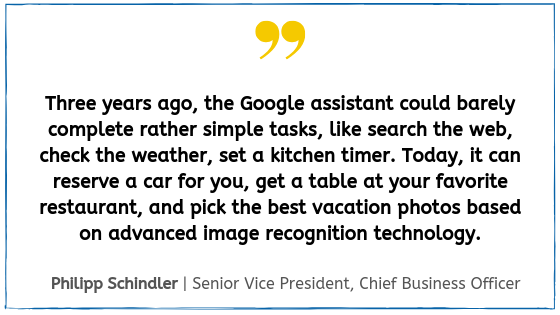 How is Google improving its platforms for digital marketers?
Schindler identified 4 main areas where Google has used feedback from marketers to make improvements in Google Ads and beyond.
The new marketing products and features from Google are intended to address the following needs from digital marketers:
More

insights

that marketers can act on

Ways to plan by

customer

instead of by channel

More ways to test and tell stories using the

assets marketers already have

More ways to

measure impact

while protecting user privacy
What new products did Google announce?
Okay, okay – on to the good stuff.
Prabhakar Raghavan, Senior Vice President of Ads, kicked off the announcements of Google's new products and features. These innovations are designed to help marketers answer the following questions:
How can we

be responsible

with user data?

How can we

be there

during the customer journey?

How can we

be useful

to the customer, at all stages of their journey?
New Ad Formats
Discovery Ads
The aptly named discovery ads will meet consumers in locations where they're open to discovering something new.
These ads will feature a swipeable image carousel and additional information about the corresponding product or service. They'll show up in different feeds where user intent is to discover new things, including the YouTube home feed, Gmail promotions and social tabs, and the Discover feed on Google.
Machine learning plays an integral part in this ad format. Advertisers simply provide high quality image assets, and Google's machine learning does the rest.
What's the benefit of these ads? By finding users in moments where they're open to discovering new products, services, or brands, discover ads can help marketers expose their products to more people.
According to Google, 85% of online consumers will take a product-related action within 24 hours of discovering a product that meets their needs. This includes researching, comparing prices, and even buying the product.
Thus, discover ads can help marketers grow their audience and cultivate new customers. This ad format will roll out to all advertisers globally later this year.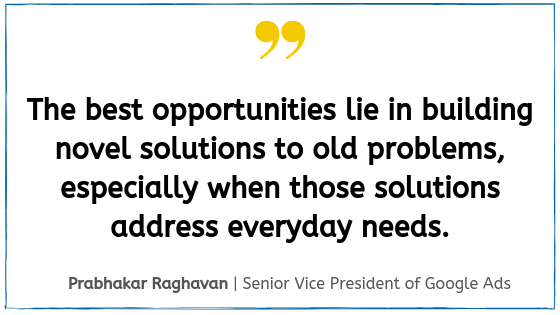 Gallery Ads
Sissie Hsiao, Vice President of Mobile App Advertising Product Management, introduced the next new ad format, Gallery Ads. Specifically designed for mobile users, Gallery Ads appear at the top of the SERP and seek to combine the higher intent of search with the more visual format of display ads.
Gallery Ads consist of images along with text. When users tap on the ad, an interactive image gallery pops up, allowing users to swipe through multiple images. A text headline shows at the top, and taglines are included beneath each image.
75% of smartphone users expect immediate information when they're searching on their phones. This ad format conveys both text-based and visual information to users, right on the SERP.
As a result, users get quicker access to more comprehensive information about your product or service. Interested users can click to continue on to your site.
Galleries can include 4-8 photos, with 70 character descriptions beneath each image. Marketers can provide up to 3 headlines. This enables advertisers to test different ad copy and calls to action (CTAs).
Do Gallery Ads work? According to Hsiao, on average, campaigns utilizing Gallery Ads have seen 25% more interactions.
New Smart Bidding Capabilities
The next speaker, Anthony Chavez, Director of Product Management in Google Ads, shifted away from ad formats to talk about new smart bidding capabilities.
One new smart bidding strategy, Maximize Conversion Value, will give marketers more flexibility to optimize for what matters most.
With campaign-level conversion optimization, marketers can choose the conversions they want to optimize for at the campaign level. Because different campaigns may have different goals, this will help the smart bidding process to become even more effective.
Chavez also discussed conversion value rules where you can assign different values to a conversion depending on the customer's value. Say your business has a list of customers who spend significantly more than a typical customer. That means that conversions from those customers have a different value to your business. Smart bidding can adjust based on these rules in order to accurately and efficiently optimize for valuable conversions. This also helps you understand the true impact of the conversions you receive.
Finally, Chavez introduced seasonality adjustments. Smart bidding is based on machine learning and data. But sometimes, historical data is not useful to predict future performance– for example, if your business has a big sale coming up in the summer.
With seasonality adjustments, marketers can let Google know the dates of the sale or seasonal event, as well as the changes in conversion rate to expect during that time. The smart bidding models will adjust their bids based these changes. Once the sale or event is over, the smart bidding strategy will exclude data from that time period going forward, since it was part of an anomaly and not indicative of continuous performance.
Video Ads
Following the smart bidding updates, Google introduced its next speaker, Nicky Rettke, Director of Product Management for YouTube Ads. With the tremendous popularity of video in 2019, this segment of the keynote was especially interesting.
Rettke revealed that YouTube has over 2 billion signed-in users visiting the platform every month. And with this wide consumption of video content, user expectations have shifted.
"Users expect delightful, creative video wherever they are – on mobile, TV, and beyond," said Rettke.
However, many marketers struggle to produce high-quality video content on a consistent basis. Feedback from businesses and digital marketing agencies has expressed that video production can be costly, time-intensive, and complex.
Google cited this feedback as inspiration for creating a new product that allows marketers to easily repurpose existing videos into short advertisements, courtesy of machine learning.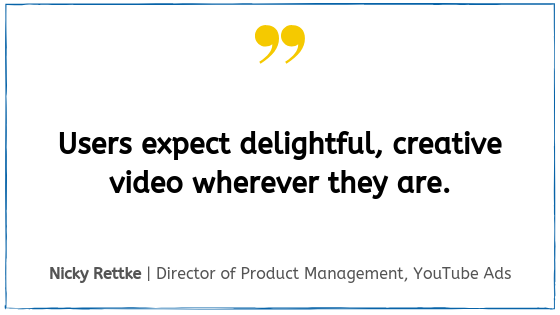 Bumper Machine
Launching later this year, the bumper machine is a new tool that will allow marketers to generate 6 second video ads, or bumper ads, directly in Google Ads.
How does the bumper machine work?
Provide a link to one of your YouTube videos that's under 90 seconds

In the span of a few minutes, the Bumper Machine will produce 3-4 video ads, each 6 seconds long
That's it! To give advertisers control over final audio and visual elements, editing features are available.
Using machine learning, this tool evaluates the original YouTube video for elements like motion, contrast, and faces. It then generates a short video that, according to Google, will prominently feature your brand.
For companies without the budget or time to devote to video ad production, this could make a huge impact, making it possible to create compelling new videos from existing creative.
Are 6 second videos effective? Compared to 30 second video ads, 6 second bumper ads result in 107% higher recall and 134% higher purchase intent from consumers. So in other words, yes.
New Audience Targeting Tools
Custom Audiences
Merging custom affinity with custom intent audiences, the custom audiences tool enables you to build an audience using keywords, websites & apps, and apply it across different campaign formats including Gmail, YouTube, Discovery & Display. This targeting tool can help marketers reach the right people across a variety of different campaign types. Furthermore, the audience can be adjusted using the Audience Expansion tool, explained below.
Audience Expansion tool
This new feature will make it easier to find people similar to those in your audiences. Visualize the tool as a slider– to broaden your reach, you can drag the slider to the right. Move it to the left to narrow the audience back down and more explicitly align with the audience traits selected in your custom audience.
How effective is this tool? Advertisers using it with display campaigns have seen up to 50% more conversions with the same budget.
Display & Video 360 Updates
The presenter also touched on Display & Video 360, a part of the Google Marketing Platform in which marketers manage their display, video, TV and audio campaigns. To meet demand for content across multiple platforms, Google will implement several changes in Display & Video 360.
Mobile searches for podcasts have grown over 85% in the last two years. With audio ad inventory in Display & Video 360, marketers can connect with consumers when they're listening to podcasts or other audio content on Google Play music, Spotify, and more.
73% of U.S. households have a connected TV. Google will enable connected TV campaigns, to help advertisers reach people watching premium TV content through streaming services. Additionally, Google will provide access to national networks and local TV stations.
All changes will take place starting in fall 2019.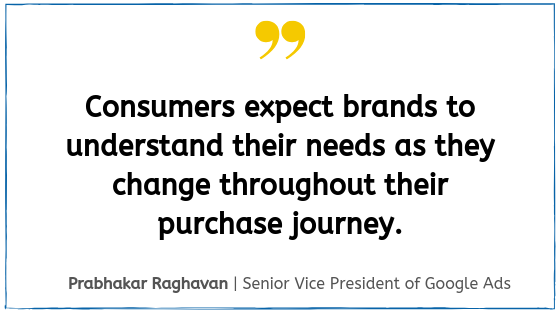 Google Shopping updates
Homepage & Purchasing Feature
Oliver Heckmann, Vice President of Engineering for Shopping & Travel, revealed exciting changes in Google Shopping.
A new Google Shopping homepage will offer personalized recommendations, while still allowing users to search for products and filter by features or brands. The product pages feature images, reviews, and videos of people unboxing and using the item.
As always, users can choose the buying option that works best for them, whether it's from the retailer's website or going to the physical store. However, now customers have an additional option.
Similar to Instagram's new in-app purchasing feature, users will be able to purchase products directly from a retailer through Google Shopping.
This simplifies the checkout process, and the transaction is backed by a Google guarantee. The feature will be available through voice search on the Google assistant, as well as through Google search, Google images, and YouTube.
The coolest part of this announcement? Users will be able to directly buy products they see in YouTube videos, while the video is still playing.
Advertisers need to sign up for the Shopping Actions program to sell products this way. The feature is currently available in France, but will be available in the U.S. in the coming months.
Showcase Shopping Ads
Showcase shopping ads integrate more visual content into a shopping ad. The ad can actually display more than one image at once, in an effort to better engage and inform consumers.
Over 80% of the traffic from showcase shopping ads to a retailer's website are new visitors. The ad format is available now, and will expand this year to Google images, YouTube, and the Discover feed.
Shopping Campaign with Partners
This new setting allows retailers to accept additional budgets from brand partners in Google Ads. In turn, the brand partners can decide which products or product categories they want to promote with that additional budget.
This beta program has shown to increase both online & in-store conversions. It's also proven to enhance product awareness.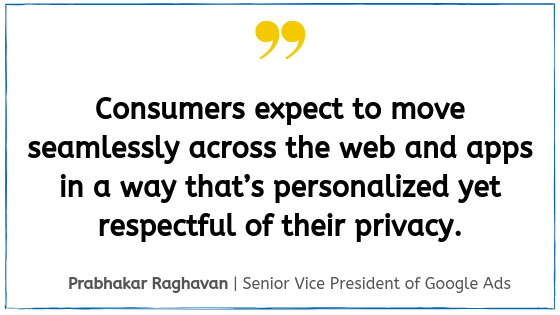 Location-Related Features
Local Campaigns
Launched last year in search, display, YouTube, and Google Maps, local campaigns help advertisers reach consumers in the moments they are actively looking for nearby businesses.
Google gave a case study example from Dunkin'. The donut and coffee company saw an increase of 4x their monthly customers by using local campaigns.
Another study of 10 advertisers across the globe who used local campaigns revealed significant results. These businesses saw a median of 5x incremental ROAS (return on ad spend) from their in-store sales.
Google will soon expand local campaigns to include new options such as:
Displaying different product lines for users to explore before they even get to the store

Promoted locations in Maps

Promoted pins in Maps when someone is planning a route to a destination, or as they are navigating
Google Trips
Google.com/travel is seeking to change the way people plan for trips. The feature allows users to explore different destinations and things to do there, including sample day plans that are created just for them.
The Flight and Hotel tabs help users browse through different options. Users can even make accommodations for airfare and lodging directly from Google. If you're not ready to book a flight yet, the Google flight price tracker will monitor prices and inform you when they move up or down.
Heckmann noted that users can save relevant information, then pause and come back, picking up their research where they left off.
As users purchase flight tickets, book a hotel, and make restaurant reservations, Google Trips creates a timeline displaying the information. It does this automatically using email confirmations from Gmail.
How does this enhanced travel planning experience, which is available now, help marketers?
This feature makes it easier for advertisers to reach people who are actively looking for products, services, and experiences. It helps marketers identify high intent customers and influence their decisions. As a result, advertisers can drive more qualified leads.
Protecting User Privacy
The keynote wrapped up with Senior Product Manager Chetna Bindra. She transitioned from new product announcements to a discussion on privacy.
Bindra noted that today's consumers are losing trust in how their data gets collected and used. As a result, she feels that marketers must emphasize data transparency and take concrete steps to ensure consumers' privacy.
She announced the following steps Google is taking to enhance user privacy:
Changes in the Chrome browser that make it easier for users to block or clear third party cookies

New restrictions on fingerprinting

New tools to give transparency into the data used to personalize ads and the companies involved
How can digital marketers help protect user privacy? 
Be clear about what data you collect from people and why

Build more direct relationships with your users

Understand and respect preferences to privacy
She gave an example:
If an advertiser can't personalize an ad because a user has opted out or cookies are restricted, Google's machine learning can use the context of the page where the ad is displayed to maximize relevance. This helps ensure a positive user experience while respecting personal privacy preferences.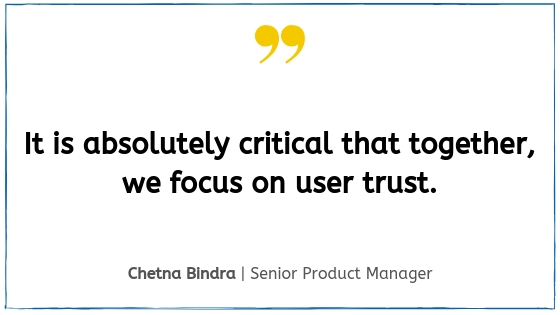 Google's Vision For the Future of Digital Marketing

 
After identifying influential trends, announcing new products, and discussing the importance of privacy, Google Marketing Live's Ads Innovation Keynote came to a close.
Bindra concluded the keynote with Google's vision of how online advertising should work in 2019:
"Advertising has to work for everyone, because when it does, users can get access to information and great content for free. Creators and publishers can thrive by getting fair compensation for their work. And marketers like you can connect with people interested in what you have to offer."
You can watch the entire Google Marketing Live Ads Innovation Keynote here.
Want to get more out of your Google Ads account? See how Creative Website Marketing's PPC Management services can help elevate your business.
Creative Website Marketing is a digital marketing agency in Nashville, TN, helping businesses throughout the country execute strategic brand awareness + lead generation efforts.