In the past, the search engine results page (SERP) was relatively simple. A Google search, for example, would trigger a simple list of ten blue links from which the user could choose.
If you conduct a Google or Bing search today, the SERP looks very different.
The demand for instant answers and information has transformed the face of SERPs in recent years. Rather than just a list of links, the SERP is now populated with ads, featured snippets, local packs, videos, and more.
Below, we discuss each of the 16 main Google SERP features. If you're already familiar with these, feel free to skip ahead to why these SERP changes matter and how to strategize for them.
What are the main Google SERP features?
Google wants to provide the most relevant information in as few clicks as possible.
To achieve this, Google has developed 16 main features that now appear on SERPs in addition to the traditional website links. 
1. Ads
Pay-per-click (PPC) ads appear at the top and bottom of the SERP, and are distinguished from organic results by a small "ad" label. Up to four ads can appear before organic listings begin.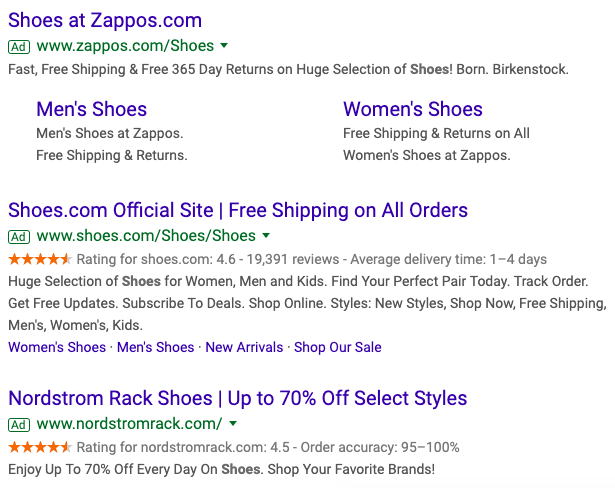 2. Carousel Results
Carousels showcase answers directly on the SERP, as visual "cards" that users can swipe through. When a user clicks on a single card, Google will show new search results using the title of the card as the search query.
Carousels typically return for searches that can be answered with a list, as shown in the examples below.


3. Featured Snippets
Featured snippets appear in a box above the search results. They display a small excerpt, or "snippet," of text from a website meant to answer the user's question immediately on the SERP.
Snippets can include an image as well as text. Google may pull an image from the same website as the text, or a different site, as in the example below. 
Because they're situated above search results, featured snippets are in what's often referred to as "position zero."
If the user wants more information, they can click on the link to read the content in its entirety. For this reason, having your website featured on a snippet can lead to increased traffic and clickthrough rate (CTR).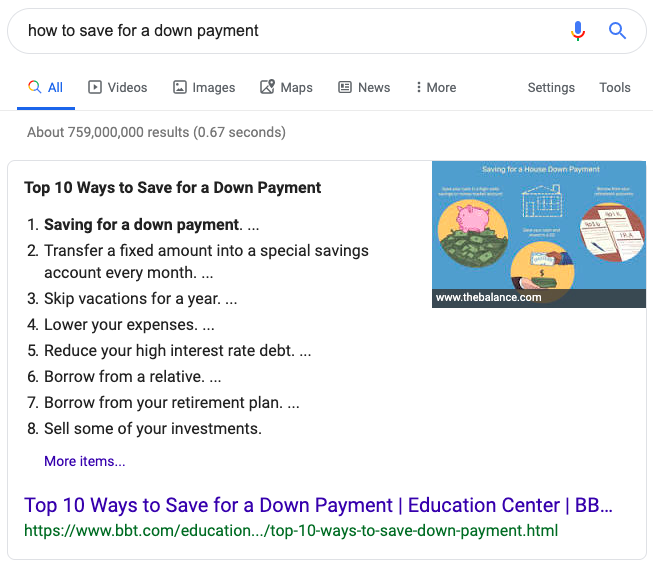 4. Image Pack
Image packs act as a preview of Google Images. They can show up on the SERP, featuring the first several Google Image results for a certain search query.
To see more photos, users can toggle to the Images tab, or click the blue links above or below the image pack.
Enjoy this adorable example: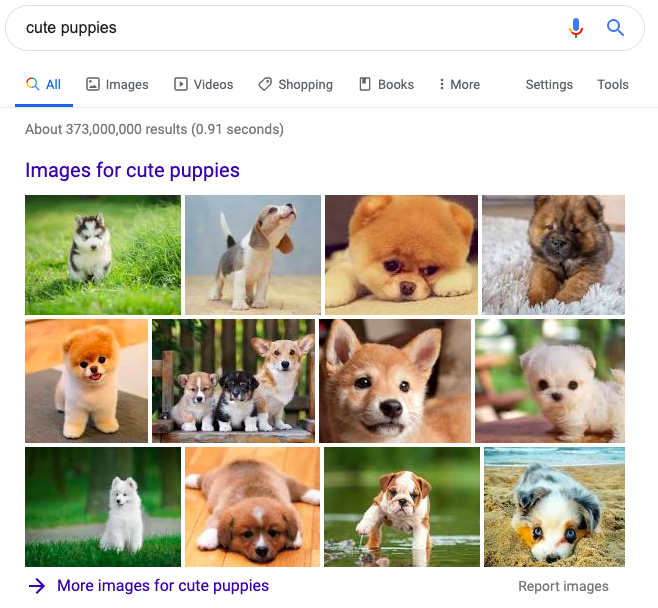 5. Knowledge Cards
Have you ever Googled the age of a celebrity? Chances are, the answer appeared right on the SERP beneath the search bar.
For questions that can be easily answered with data or numbers, knowledge cards are extremely helpful. They display answers to specific questions directly on the SERP, eliminating the need to click through to a website and search for the answer.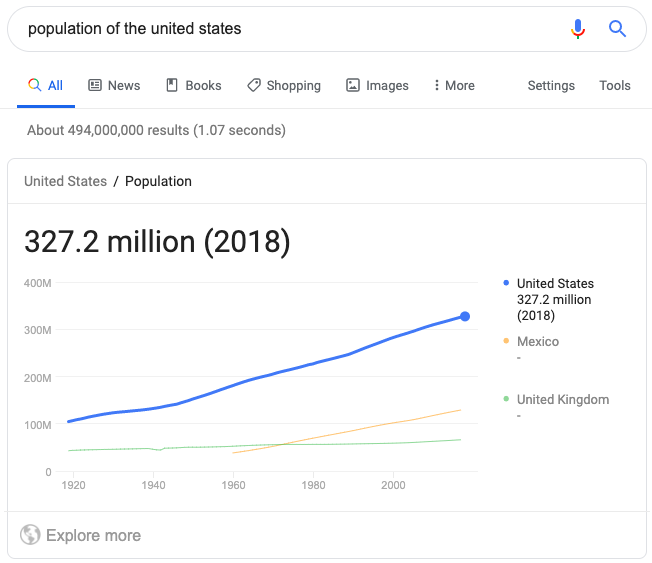 6. Knowledge Panels
Knowledge panels display additional information related to a search. In the example below, for instance, the knowledge panel came up in response to the search query, "Population of the United States." 
These features appear on the right side of the desktop SERP. On mobile, knowledge panels appear natively as you scroll down the page, sometimes featuring different tabs to consolidate information into a smaller space. 
Knowledge panels also showcase Google My Business profiles when users search for specific companies or local businesses. Google My Business listings are becoming more and more of an authoritative feature on the SERP, where users can easily find information about a business including the address, hours, phone number, and customer reviews.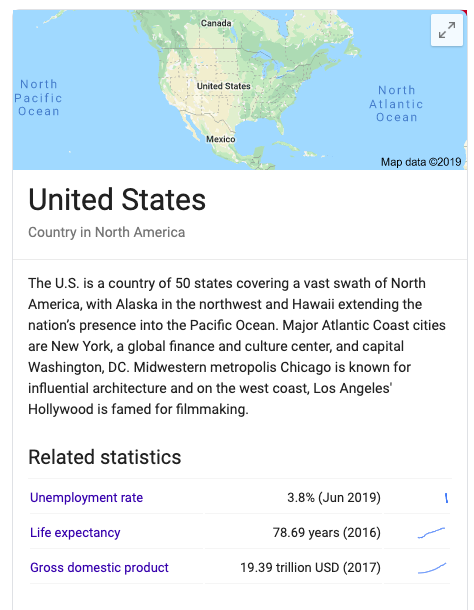 7. Local Pack
When users include location-based terms in a search, such as "near me" or "in Nashville," the SERP may feature a local pack. This is a map showcasing up to four relevant locations, with the name, address, and hours of each business displayed below.
This example shows the local pack triggered by the search, "Car wash in Nashville."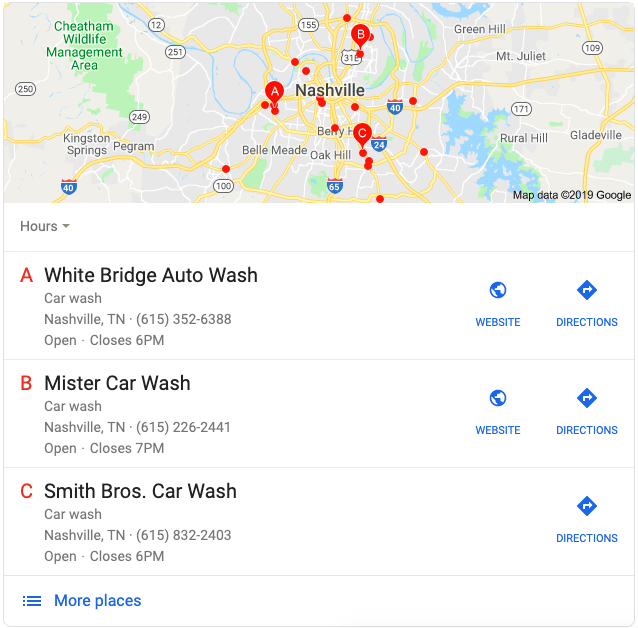 8. Local Teaser Pack
The difference between a local pack and a local teaser pack lies in the amount of information featured about each location. Local packs list the location's name and basic information like its address. Local teaser packs feature more information, such as reviews, photos, and a short description. 
The example below shows the local teaser pack for the search query "Parks in Nashville."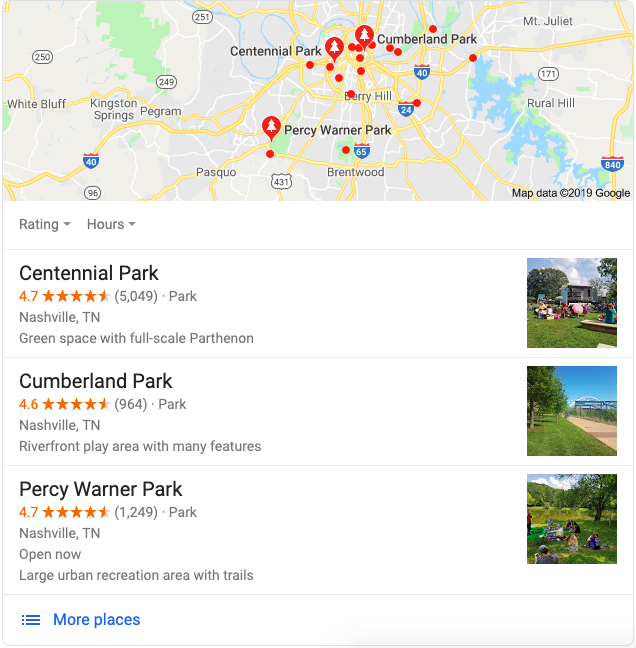 9. People Also Ask
Also known as "relevant questions," the People Also Ask feature is a dropdown box on the SERP. It shows several questions related to the user's search. When clicked, the dropdown expands and shows a short snippet intended to answer the question. 
This is another way that Google can engage users right on the SERP.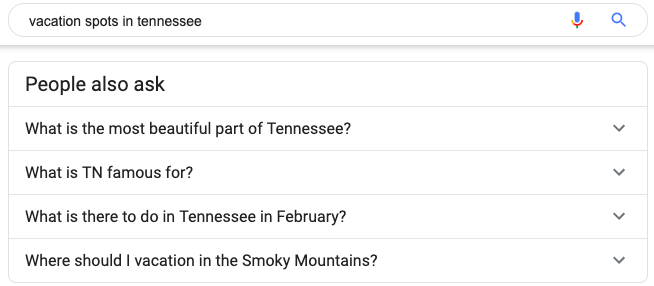 10. Reviews
Rather than a standalone feature on the SERP, reviews supplement organic listings, appearing beneath the URL. Reviews are shown as an overall rating out of five stars, as shown in the example below.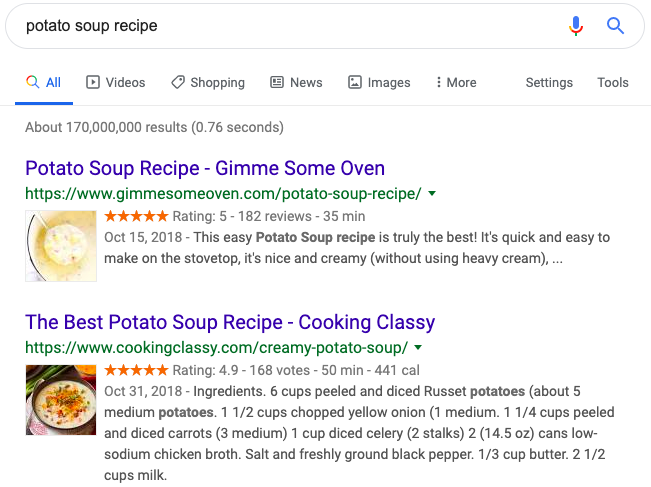 11. Scholarly Articles
Similar to the way image packs act as a preview for Google Images, scholarly articles act as a preview for Google Scholar.
For those unfamiliar with Google Scholar, it's similar to the typical Google search engine, but instead of pulling results from all across the web, results come exclusively from scholarly articles and literature. 
This feature can appear on the SERP for relevant search queries, showing users several of the scholarly articles available for that topic. 

12. Shopping Results
Similar to the text ads at the top and bottom of the SERP, shopping results are paid ads that appear for relevant searches. These ads look quite different than text ads, however. Shopping ads show an image, pricing, the retailer's name, and product reviews.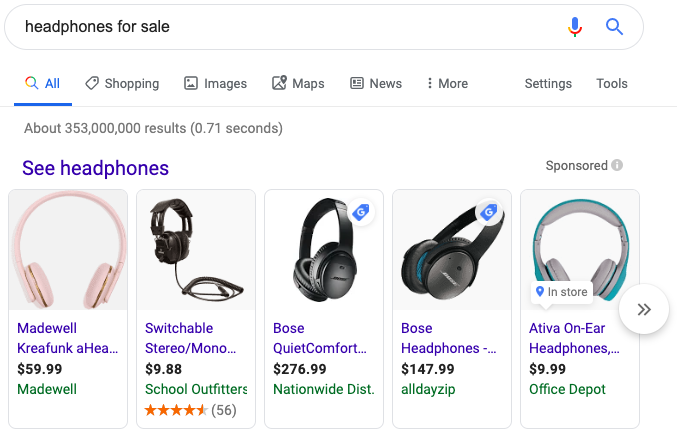 13. Site Links
Typically appearing when someone searches for a specific brand or business, site links appear beneath an organic listing and link to different pages of the website.
Site links expand an organic listing, making it more dominant on the page and giving consumers the option to skip right to the page they're looking for.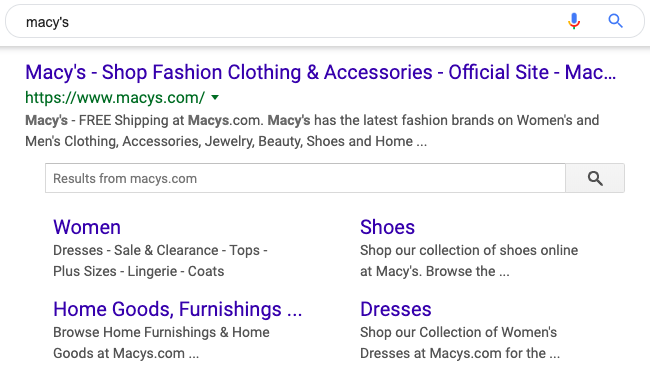 14. Top Stories
For searches relating to news or current events, Google will often display top stories. This feature showcases the first few results from the News section of Google. 
Top stories usually appear at the top of the SERP. However, sometimes they appear toward the middle or bottom of the page, mixed in with organic website listings.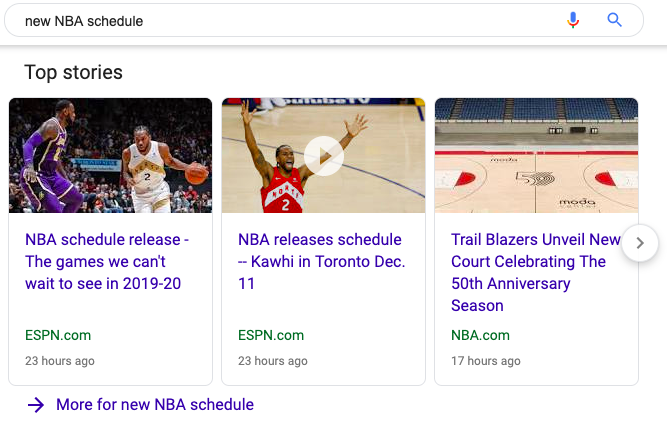 15. Tweets
Google began displaying tweets on the SERP back in 2015. These are usually triggered when someone searches for a particular person, business, or entity.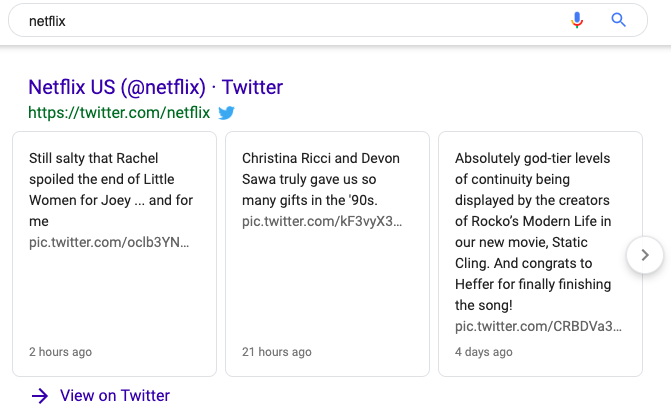 16. Videos
Last but not least, videos can also show up on the SERP. Google shows three video cards with an option to scroll through more.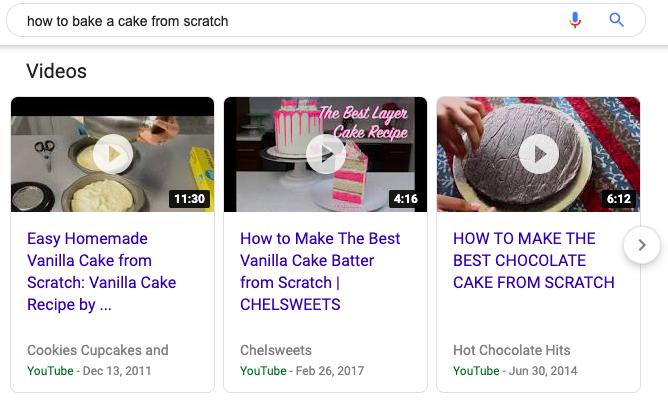 Why does this matter?
With so many features now present on the SERP, users must now scroll further and further down the page to reach organic listings. 
Furthermore, these trends indicate that search engines are seeking to satisfy search intent directly on the SERP. Featured snippets and knowledge cards, for example, can provide answers to search queries without the user even having to click through to a website. 
This has the potential to make a tremendous impact on organic traffic. If Google, Bing, Yahoo, and others continue to become answer engines rather than search engines, sites may see a significant drop off from organic search traffic. 
In fact, according to analytics firm Jumpshot, more than 50% of Google searches now result in zero clicks.
However, there are things companies can do in order to stay competitive on search engines. The following adjustments in digital marketing strategy can help businesses stay visible amid the changing face of SERPs. 
How can I strategize for these changes?
Search engine optimization (SEO) and content marketing strategy are shifting. 
Many people equate SEO with keywords, but that's an oversimplification. While identifying and incorporating keywords is important, it's not the answer to a comprehensive SEO strategy.
Instead, brands should focus on providing useful, in-depth content that's relevant to their audience. This will keep users engaged, build authority with the search engine, and allow you to answer a variety of search queries. 
In this content, include keywords, questions, and natural-sounding language. This will help optimize for voice search, featured snippets, and conversational search queries. 
Research search term trends and anticipate what your audience wants to know. Let this inform your content strategy. 
As you create content, supplement text with images, videos, infographics, and other visual elements. However, keep page speed in mind. You may need to compress images or make other adjustments to ensure your pages load quickly.
In addition to content, technical SEO tactics like schema markup and meta data must be up-to-date and optimized. This will help make it as easy as possible for search engines to understand your website.
Plus, schema markup can help your site obtain some of the SERP features mentioned above, such as reviews, site links, and more.
Finally, companies should update and enhance their Google My Business and Bing Places for Business listings. 
Ensure the basic information is complete and accurate, such as your address, and business hours, and phone number. Include high-quality photos, and take advantage of new offerings like the appointments and description features.
Learn more about Google My Business and Bing Places for Business here, or check out our post on how to get five-star reviews for your business. 
To compete with all the new SERP features, the higher you can rank organically, the better. By integrating strong SEO and content marketing strategies, businesses can boost their organic presence. This will help you maintain visibility on search engines and continue to capture organic traffic. 
Consider PPC ads
In addition to SEO and content marketing, PPC is another digital marketing strategy to consider in response to changing SERPs. 
PPC ads show up at the top of the SERP, above organic listings, local packs, and other features. Therefore, utilizing PPC can help your brand be one of the first results your audience sees. 
This is an advantage because, according to Advanced Web Rankings, 67% of clicks go to the top five listings on the SERP. 
The frequency at which your ads show up and their position on the SERP depends on your budget, ad rank, quality score, and other factors. Therefore, strategic PPC set-up and management is important.
Learn about Creative Website Marketing's PPC Management services here. 
Looking ahead
The nature of SERPs and search engine marketing is changing, but that doesn't mean you're destined to be left behind.
With the right strategy, companies can adapt. By educating yourself about new SERP features and ways to stay competitive, your business is already a step ahead.
If you're interested in partnering with an agency for digital marketing, contact Creative Website Marketing, or browse our SEO, Content Marketing, and PPC Management services.