Let's face it. As Local Business owners, we wear so many hats, and sometimes it feels like there aren't enough hours in the day to devote to managing online listing platforms and growing positive 5-star reviews on Google My Business or other review sites.
Today's customers expect to find and engage with your local brand quickly and easily. These tips will help you maximize your online marketing results so you can connect and engage with more potential customers and save time doing it.
Get 5-Star Google My Business Reviews – How to Start
The more times your business' name appears online on relevant platforms, the faster you will see your search rankings improve. Better yet, if you are getting reviews, research has shown they improve click-thru-rate by as much as 20%.
Here's a quick way to to ask your happy customers for a review:
Search for your business' name on Google.
Click on 'Write a Review' on your Google My Business Listing.
Copy that URL, paste it in Google's URL shortener tool, and add the number 5 after the final comma in the link.
Copy the shortened URL and email the link to your happy client list, asking for a review. The link starts them at a 5-star pop up window so they can write a review and adjust the ratings if they want to.
Customers will have to sign into their Gmail account and will be prompted to do that automatically. If they don't have one, they can sign up quickly.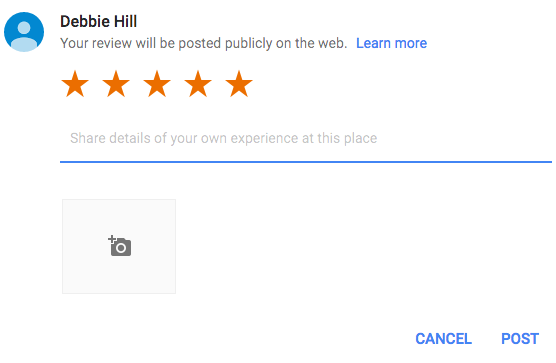 Bonus
Getting good reviews on Google My Business sends trust signals to potential customers that see your listing and can start to build initial positive brand signals with a soon-to-be customer. In fact, 72% of consumers trust online reviews as much as personal recommendations, according to Review Monitoring.
Managing Google My Business Reviews – Positive and Negative
It's very important to monitor your brand online for any negative reviews. A quick and free way to do this is to use Google Alerts. For Google My Business, if you claim your listing, then you will get notified whenever someone leaves a review. If you need help optimizing other areas of your page, check out our Google My Business article to get more tips.
To demonstrate good customer service and show that you care about customers past the sale, you should respond to both positive and negative reviews.
For positive reviews, you should always respond as quickly as possible. Thank customers for their business and for taking the time to leave a review, and restate what they were happy with. It's a good idea to mention your company name and use any relevant keywords.
For negative reviews, you should start by responding quickly, thanking them for their feedback, and telling them you will be reaching out directly to resolve the issue. After reaching out directly offline, make every attempt to resolve the issue. Once it's resolved, respond online describing how the issue was rectified, and hopefully the customer will adjust their rating (which you can ask for during the resolution conversation).
Bonus
According to a new study from Northwestern University's Spiegel Research Center, interacting with negative reviews leads to consumers spending four times longer on sites and boosts conversion rates by 67%.
Final Thoughts
Building a solid local brand and promoting it online takes time. These review management tips can help you turn happy and unhappy customers into brand advocates. Nurturing customers past the sale is critical to building long-term customer relationships, which always leads to invaluable word-of-mouth advertising – the highest compliment a business can receive!
If you are looking to improve your local brand marketing strategy and need a second opinion of how Digital tactics can support your efforts, Creative Website Marketing is happy to help. Contact us today!
Creative Website Marketing is a digital marketing agency in Nashville, TN, helping businesses throughout the country execute strategic brand awareness + lead generation efforts.