Due to the virtual format of this year's event, Google Marketing Live became Google Marketing Livestream 2021. Below, find high-level highlights followed by a detailed recap of the event's keynote, including new product announcements, marketing trends, and insights into consumer behavior.
Quick Highlights
Explore at a glance some of the most exciting product announcements, insights, and trends from Google Marketing Livestream 2021.
Google Ads Announcements
Image extensions are available to all Google Ads advertisers as of today.

Performance Max campaigns will be released in beta to thousands of advertisers, with a full rollout coming later this year.

Demand forecasts will soon be added to the Insights page, predicting changes in search behavior for the next 90 days.

Pairing broad match keywords with Smart Bidding and responsive search ads has been shown to increase conversions by 20%.

Local inventory ads

will highlight retail products that are available for immediate in-store pickup, curbside pickup, or pickup at a later time.
Consumer Behavior Insights
81% of people say that the potential risks they face from data collection outweigh the benefits, demonstrating the prevalence of privacy concerns.

70% of shoppers said they bought from a brand after seeing it on YouTube.

71% of consumers prefer to buy from brands that align with their values.

Searches for local businesses have grown more than 80% YOY.

15% of search queries every day are brand new.
Marketing Trends
Modeling and predictive automation, along with Chrome's Privacy Sandbox, are anticipated to fill the gap left when cookies are phased out.

As consumers become more conscious of shopping with brands that share their values, Google plans many new developments to help merchants tell their unique brand story.

Cross-channel optimization is necessary as the customer journey involves many touchpoints and becomes more complex.
Below, find a more in-depth recap of the keynote presentations.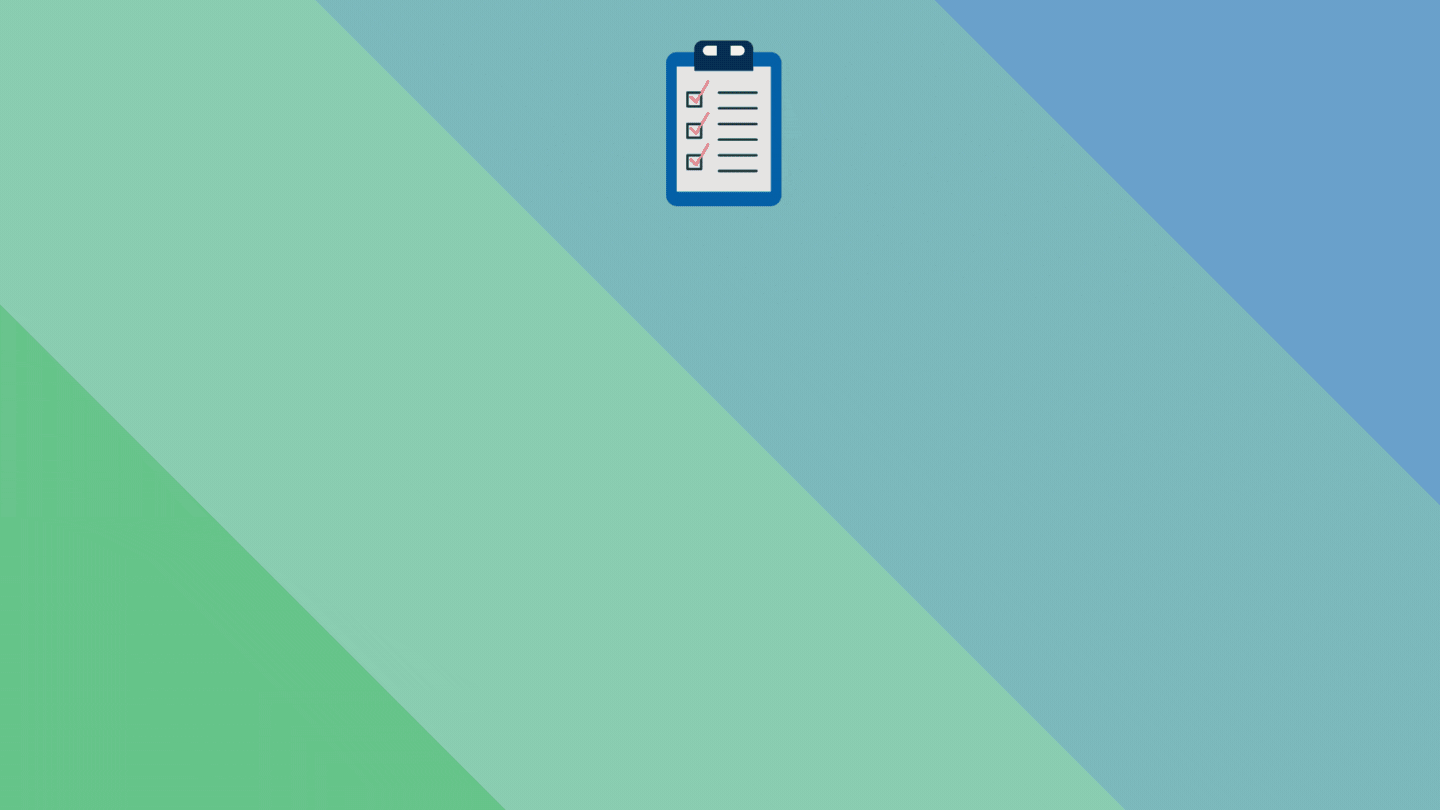 Introduction to Google Marketing Livestream 2021
Google Marketing Livestream kicked off with an introduction from Philipp Schindler, the Chief Business Officer at Google. He acknowledged the challenges of the past year, with COVID-19 forcing businesses to quickly adapt to a new reality.
"We're facing tougher challenges than ever," Schindler said, "but it's also possible to have a deeper impact than ever."
He then announced 3 areas marketers should focus on now, to prepare for the future:
Privacy

Measurement

Automation 
The following segment, Building for the Future of Marketing, addresses these 3 areas. Intertwined are new product announcements, consumer behavior trends, specific recommendations for advertisers, and more.
Building for the Future of Marketing
1. Privacy
Vice President and GM of Google Ads, Jerry Dischler, took over from Schindler to speak more in-depth about the future of online privacy.
First, however, he recapped some of the new products and features Google released in 2020 and early 2021 to help businesses, such as the Insights page in Google Ads and the booking option for local services ads.
He then announced a new Google Ads campaign type called Performance Max. This campaign type will consolidate all of Google's ad inventory, including Search, YouTube, Display, Discover, Gmail and Maps, giving advertisers expanded reach without having to manage multiple campaigns. 
Performance Max campaigns are intended to help advertisers: 
Find more converting customers due to the expanded formats

Drive performance based on their goals

Deliver rich insights into the automation used 
The campaigns will be released in beta to thousands of advertisers starting today, with a full launch expected later this year.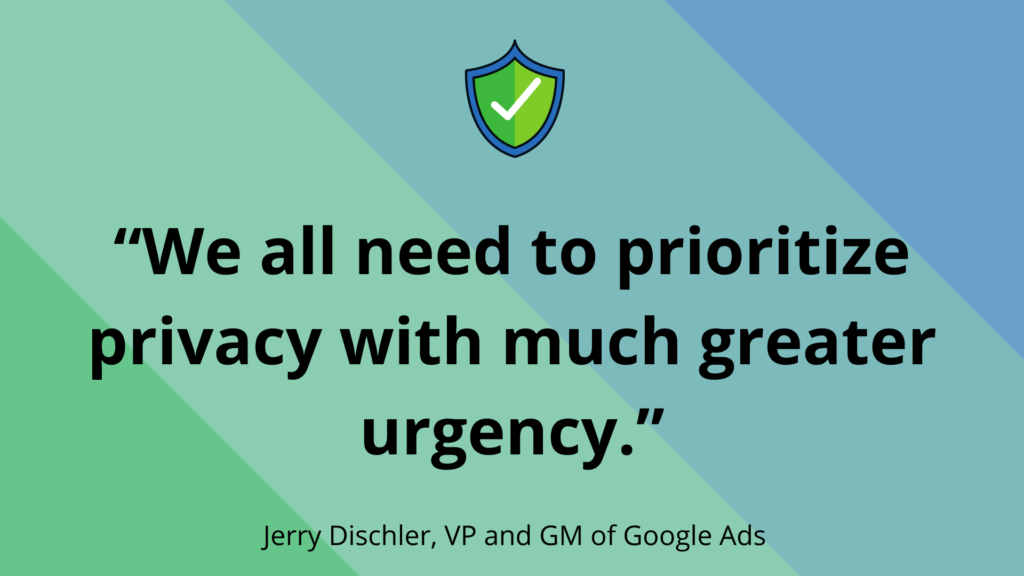 Before segueing into privacy, Dischler addressed how COVID changed the way people searched and interacted with the digital world. For example, Google searches with the words "ideas for beginners" grew by over 100% during the pandemic. Meanwhile, searches containing "how to invest" increased by over 70%.
"As the world recovers," he said, "we have more opportunities than ever to deliver what people are looking for."
However, as advertisers seek to connect with consumers in new and effective ways, privacy must be at the forefront.  
Dischler noted that 81% of people said that the potential risks they face from data collection overshadow the benefits. This demonstrates users' widespread concern about being tracked across the internet.
"We all need to prioritize privacy with much greater urgency," he said.
Once third party cookies are phased out, Google asserts it will not build alternative identifiers to track individuals as they browse the internet.
Instead, advertisers should follow these 3 guidelines for transitioning to a world without cookies:
Properly use consented, first-party data

Be forward-looking and predictive, using automation and machine learning that help you identify patterns and trends

Commit to new technologies that preserve privacy, such as Google Chrome's Privacy Sandbox
Note: The Privacy Sandbox is a new initiative centered around advances in privacy techniques, with a focus on keeping users anonymous. The goal is to help businesses and merchants connect with customers in a privacy-safe way.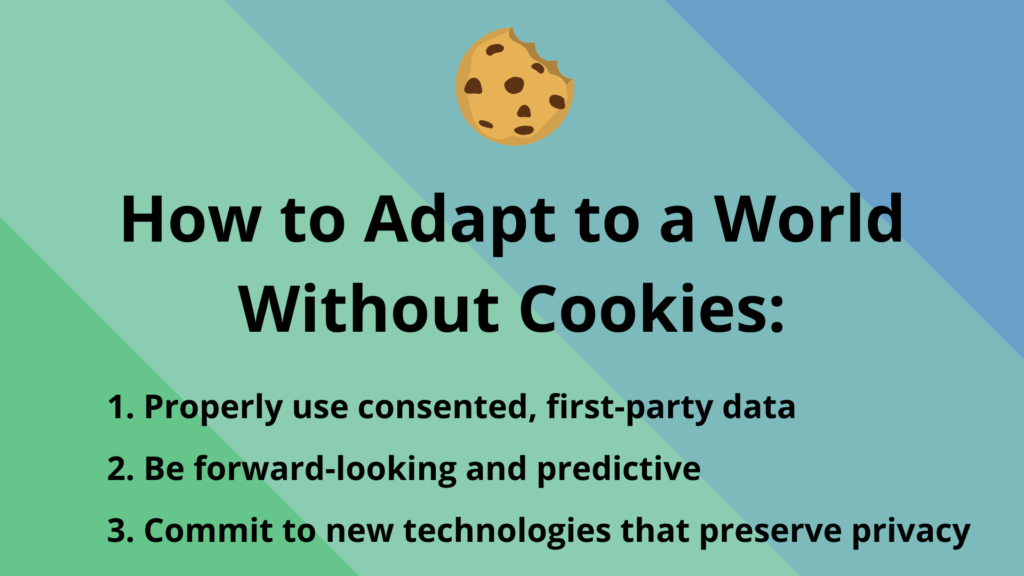 2. Measurement
The presentation then shifted from privacy to measurement, though the two topics greatly overlap. Vidhya Srinivasan, Google's Vice President and GM of Ads Buying, Analytics, and Measurement, explained the current and future state of measurement in marketing.
"To make every marketing dollar count, you need to understand consumer behavior," she said, but that also involves respecting user privacy. "Our industry is changing, and right now is the time to do the hard work of preserving the future of measurement."
According to Srinivasan, the future of measurement involves 3 key steps:
Build your measurement strategy on first-party data

Enable users to make choices about their data

Fill in gaps with modeled data
Srinivasan touched on enhanced conversion measurement, a new way to measure conversions when cookies are not available. This will let your tags use consented, hashed first-party data like email addresses, from wherever your conversions are recorded.
Additionally, Customer Match in Google Ads has become more widely available, with almost all advertisers now eligible to use it. Customer Match allows advertisers to deliver personalized yet privacy-safe ads using their company's first-party data.
To help fill in measurement gaps while still protecting user privacy, Google has introduced conversion modeling through Consent Mode. Furthermore, Google has added new consent capabilities to Google Tag Manager. 
Later this year, Google Analytics will offer new features including modeled behavioral reporting, which can provide insights when cookies are not available. Plus, a new advertising snapshot will feature information such as cross-channel performance, attribution model comparisons, and campaign recommendations at a glance.
Furthermore, Google Ads will be working on improved attribution reporting, with new touchpoints being added.
Overall, this segment emphasized the importance of respecting user privacy choices and adopting modeling technology to fill in the gaps left by the absence of cookies.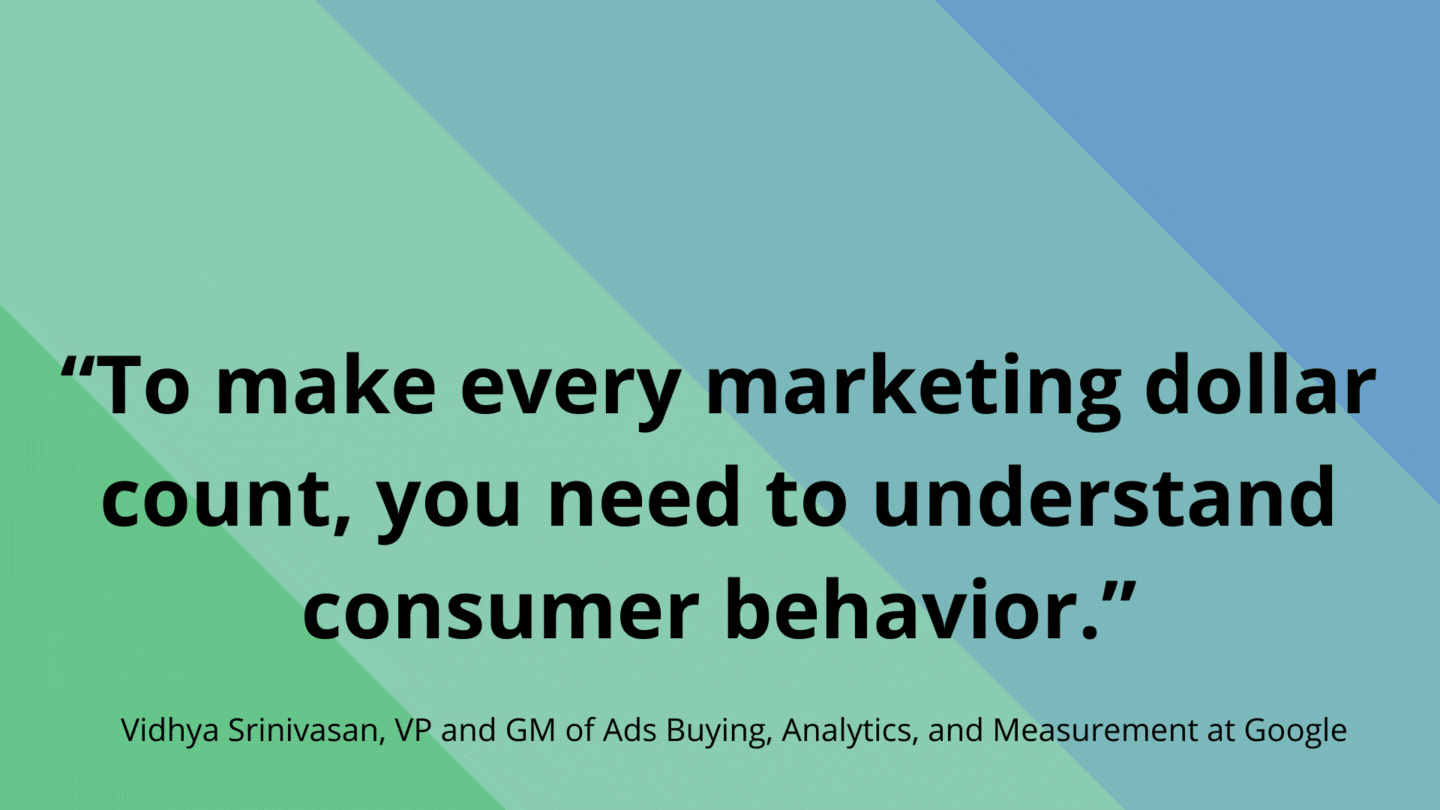 3. Automation 
The third area of emphasis during this segment was automation.
Darshan Kantak, Vice President of Product Management for Search Ads and Google Ads Experiences, centered this topic around Google Ads and gave specific recommendations to advertisers.
"Automation drives results," he said, "especially when you feed it the right information about the value of your ads."
Kantak recommended using responsive search ads with broad match keywords and Smart Bidding. Advertisers who adopt this formula see an average of 20% more conversions at a similar CPA.
Google is recommending this because broad match keywords have been overhauled to deliver more relevant searches. They now incorporate signals like landing pages, other keywords in your ad group, and more. 
Reinforcing the recommendation to pair broad match keywords with Smart Bidding, Kantak cited a case study where a toy company used this combination to increase revenue by 40% while maintaining a similar ROAS.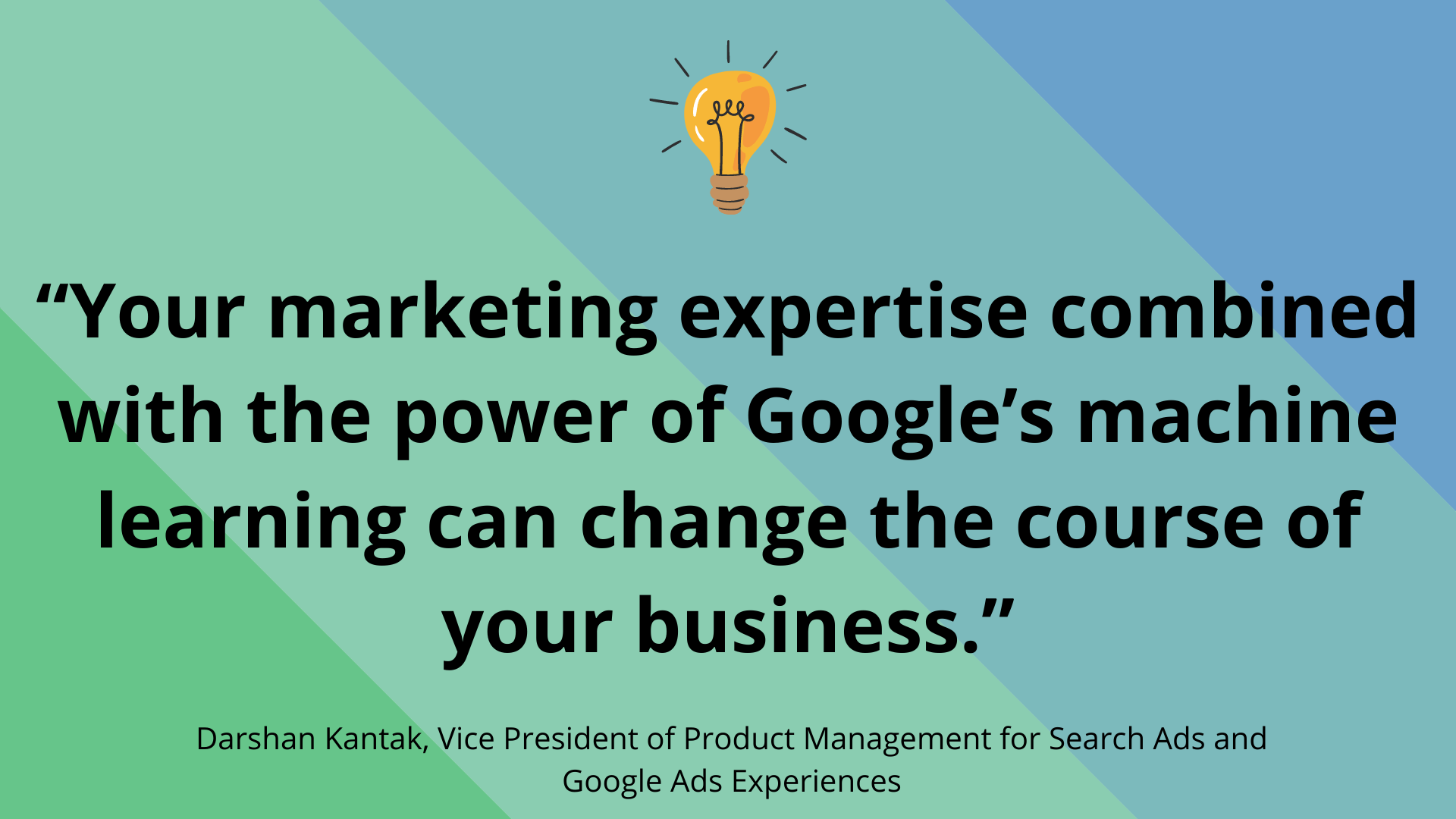 Additionally, Kantak revealed that image extensions are now out of beta and available to all advertisers. This exciting announcement means that all advertisers can now add engaging visuals to their search ads.
Another announcement involved the Insights page in Google Ads. This page currently offers information about changing query trends relevant to your business. Soon, Google will add demand forecasts to this page, which will predict changes to search behavior for the next 90 days. 
Advertisers can use demand forecasts to prepare for upcoming shifts. For example, an advertiser may want to increase their campaign budget if the forecast shows an upcoming spike in demand. For e-commerce businesses, these predictions can also help with inventory decisions to prepare for lower or higher anticipated demand.
As Kantak summed up this segment, he said, "Your marketing expertise combined with the power of Google's machine learning can change the course of your business."
The Future of Commerce 
The next part of the Google Marketing Livestream keynote moved beyond the 3 focus areas for the future of marketing. This segment narrowed in on the future of commerce.
Bill Ready, Google's President of Commerce, Payments & Next Billion Users, demonstrated how shopping habits are changing. For example:
Curbside pickup searches grew 3,000% at the beginning of the pandemic

In the fourth quarter of 2020, retail searches increased 3x over the previous year

Searches for local businesses have grown over 80% YOY

70% of shoppers said they bought from a brand after seeing it on YouTube

71% of consumers prefer to buy from brands that align with their values
Google has many plans in development to respond to these trends in consumer behavior. 
For example, Google highlighted its close partnership with Shopify. The President of Shopify, Harley Finkelstein, announced that Shop Pay will be available for anyone buying from Shopify merchants on Google. Finkelstein emphasized the seamlessness of Shop Pay, saying its conversion rate is almost twice as high as a typical checkout. That's exciting news for e-commerce businesses on Google.
Meanwhile, in response to the dramatic increase in search demand for local businesses, Google announced local inventory ads. These ads will highlight products that are available for immediate in-store pickup, curbside pickup, or pickup at a later time. Furthermore, curbside pickup and in-store shopping labels are expanding to Maps and YouTube local ads. 
Later this year, Google will release a new "deals" results page on Search and Shopping. This page will specifically showcase deals, promotions, and discounts for products a user is searching for.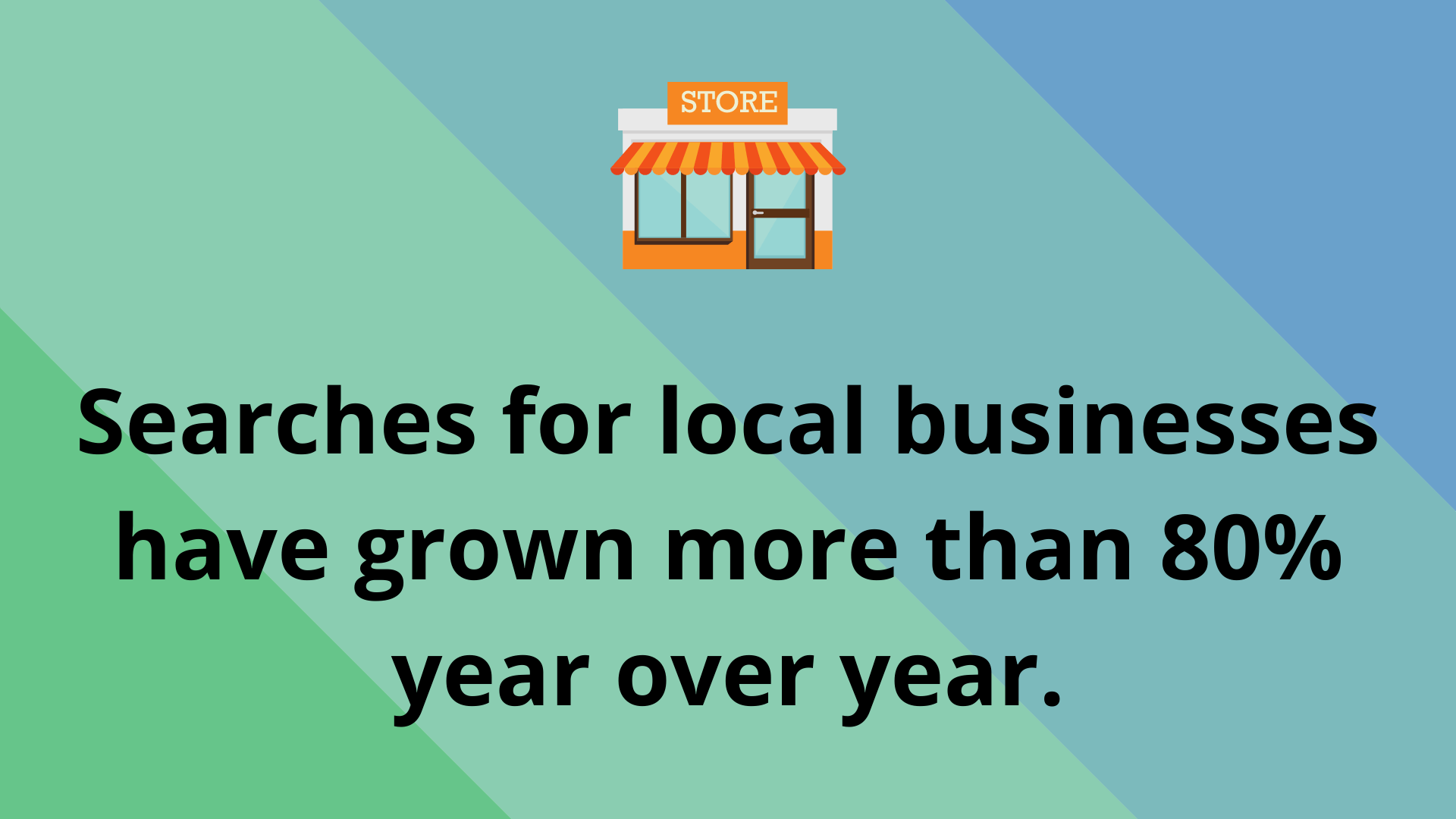 Another consumer behavior trend has to do with brand identity. 71% of consumers say they prefer to buy from businesses that align with their values.
In response, Google will help businesses share information that communicates their brand identity and story. This started earlier this year with Black-owned business labels on Google My Business profiles. Google will add other label options to help identify companies owned and led by underrepresented communities, such as woman-owned businesses.
Additionally, a pilot feature is coming soon that will showcase your company's loyalty program benefits to shoppers directly on Google. This can engage existing, loyal customers while also enticing new customers to join your loyalty program.
To help companies further communicate their brand identity, Google will test a "brand experience" feature. This will help businesses share their story and unique identity through videos and other content in addition to products and pricing.
In an effort to connect businesses with a diverse audience, Google is implementing augmented reality (AR) capabilities. AR developments include a makeup kit where users can see what foundation and other beauty products look like on a range of skin tones. Users can even virtually try it on themselves.
To help businesses stay competitive and informed, Google will launch a competitive visibility report in the Merchant Center. This report will give more insights into how your performance stacks up to competitors. This feature will also provide suggested actions, such as adjusting pricing.
Finally, marketers and advertisers know that when shopping, many consumers add products to their carts without completing the transaction. Soon, when users open a new tab, Google Chrome will show them all their open carts in one place, along with any discounts the retailer is offering. This may encourage customers to re-engage and complete the transaction.
In summary, Google's commerce division is focused on 4 things:
Building an open ecosystem where businesses of all sizes can grow

Helping businesses reach shoppers across the customer journey

Building experiences to help companies tell their brand story

Delivering consumer insights to guide action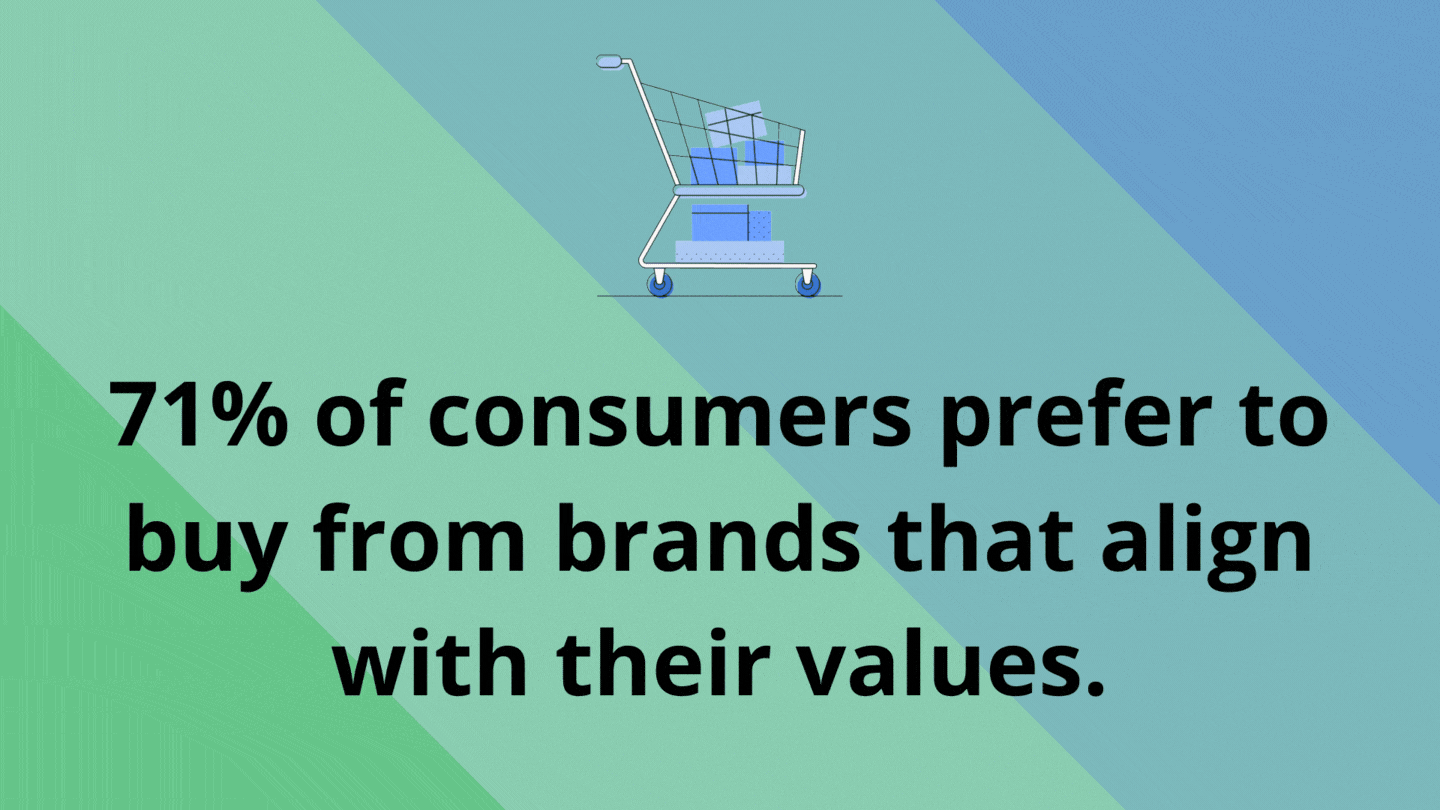 Marketing in the Age of Automation
While Darshan Kantak spoke on automation earlier in the keynote, Google's Vice President of Global Business Solutions, Jason Spero, added to the conversation and provided additional insights for marketers.
For example, he revealed that Google Ads is trying to minimize the 2-week learning period that follows the implementation of, or change to, an automated bid strategy. Furthermore, he promised more transparency into the automation processes used by Google.
Mostly, however, Spero focused on 3 automation trends he's seeing from businesses:
Responding in real-time to shifts in demand

Optimizing across channels like search, display, and video

Engaging with automation actively to improve performance
1. Real-Time Responses to Shifts in Demand
Spero stated that 15% of search queries every day are brand new. This means that the way consumers search, and what they search for, is constantly evolving. How can marketers possibly keep up?
According to Google, the answer is automation. 
For example, broad match keywords now use machine learning to understand how words and phrases are semantically related. This allows advertisers to capitalize on the different and novel ways consumers are searching for products related to their business, without having to do constant keyword research.
Reiterating the recommendation from earlier, Spero encouraged advertisers to pair broad match keywords with Smart Bidding in Google Ads.
To show the benefits of pairing broad match with Smart Bidding, he used a case study of a company that sells dog food. Their advertising team was hesitant to switch from broad match modified to broad match keywords. So, they used A/B testing in Google Ads to experiment with broad match keywords. They also implemented tactics like responsive and dynamic search ads. 
As a result, conversions from their search campaigns increased 182%.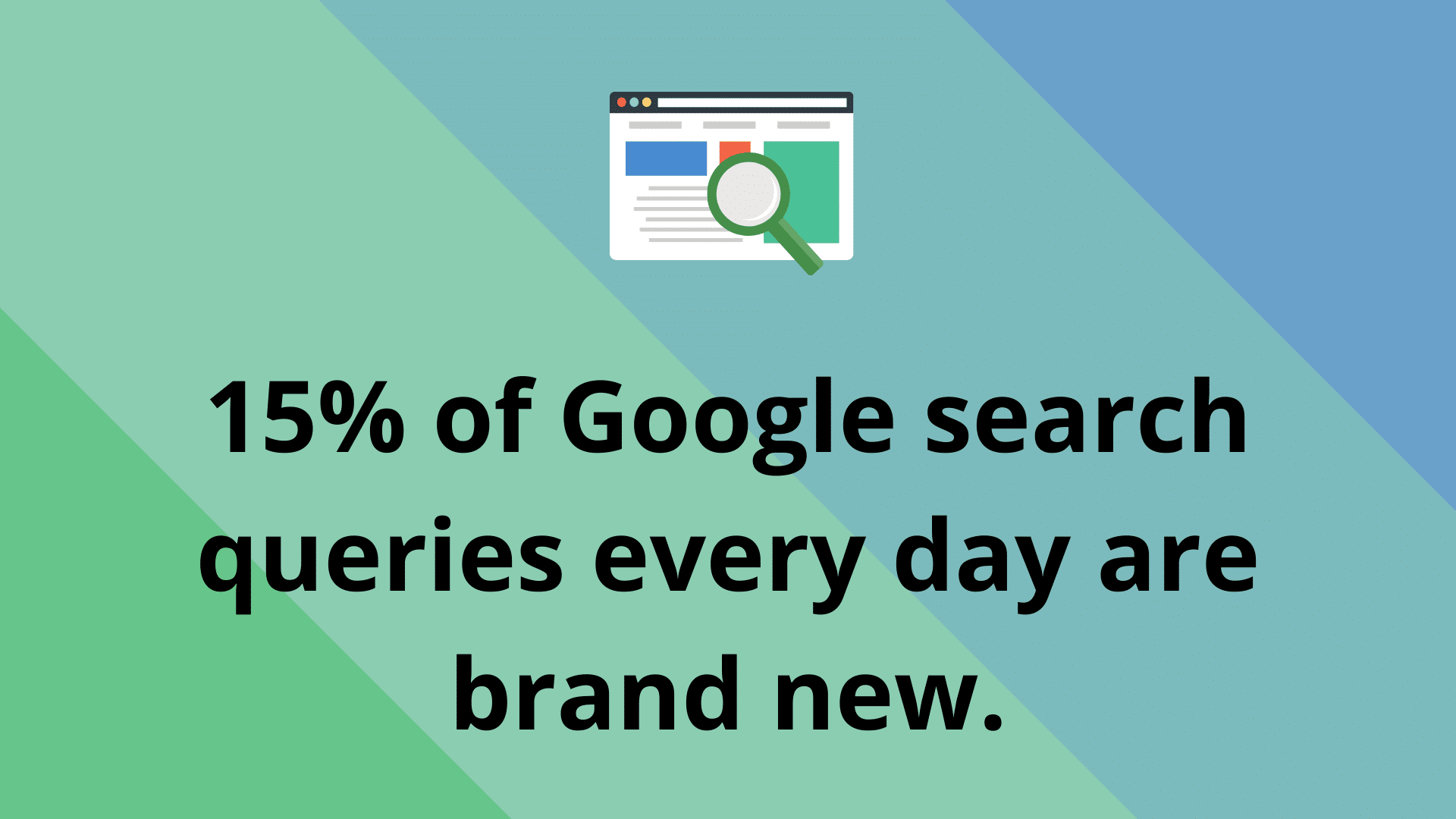 2. Optimizing Across Channels
The second trend related to automation is that more and more businesses are optimizing across different channels. This is imperative given the complex customer journey of today's consumer.
For instance, the consumer journey may start with a Google search, but often also involves watching videos, reading reviews, visiting Google Maps, and more.
It's critical to build a holistic market strategy that involves multiple digital channels. Whether your goal is revenue growth or acquiring new customers, your strategy needs to understand and match the needs of your consumer.
"Marketing only delivers its full potential when you understand and optimize to these real business outcomes," said Spero.
3. Engaging with Automation
The third and final trend in this segment is active engagement with automation.
Advertisers are abandoning the set-it-and-forget-it mindset when it comes to automation. By actively feeding Google the data it needs to capitalize on machine learning, advertisers are using automation to improve performance. 
"Automation is changing your jobs," Spero acknowledged, "but it will also give you leverage by freeing your teams to create new and more thoughtful value." 
In other words, automation is replacing some of the tasks traditionally involved in account management, such as manual bidding and keyword management.
However, this frees advertisers up to develop and implement more sophisticated tactics, such as offline conversion uploads, value-based bidding, and first-party data strategies like Customer Match.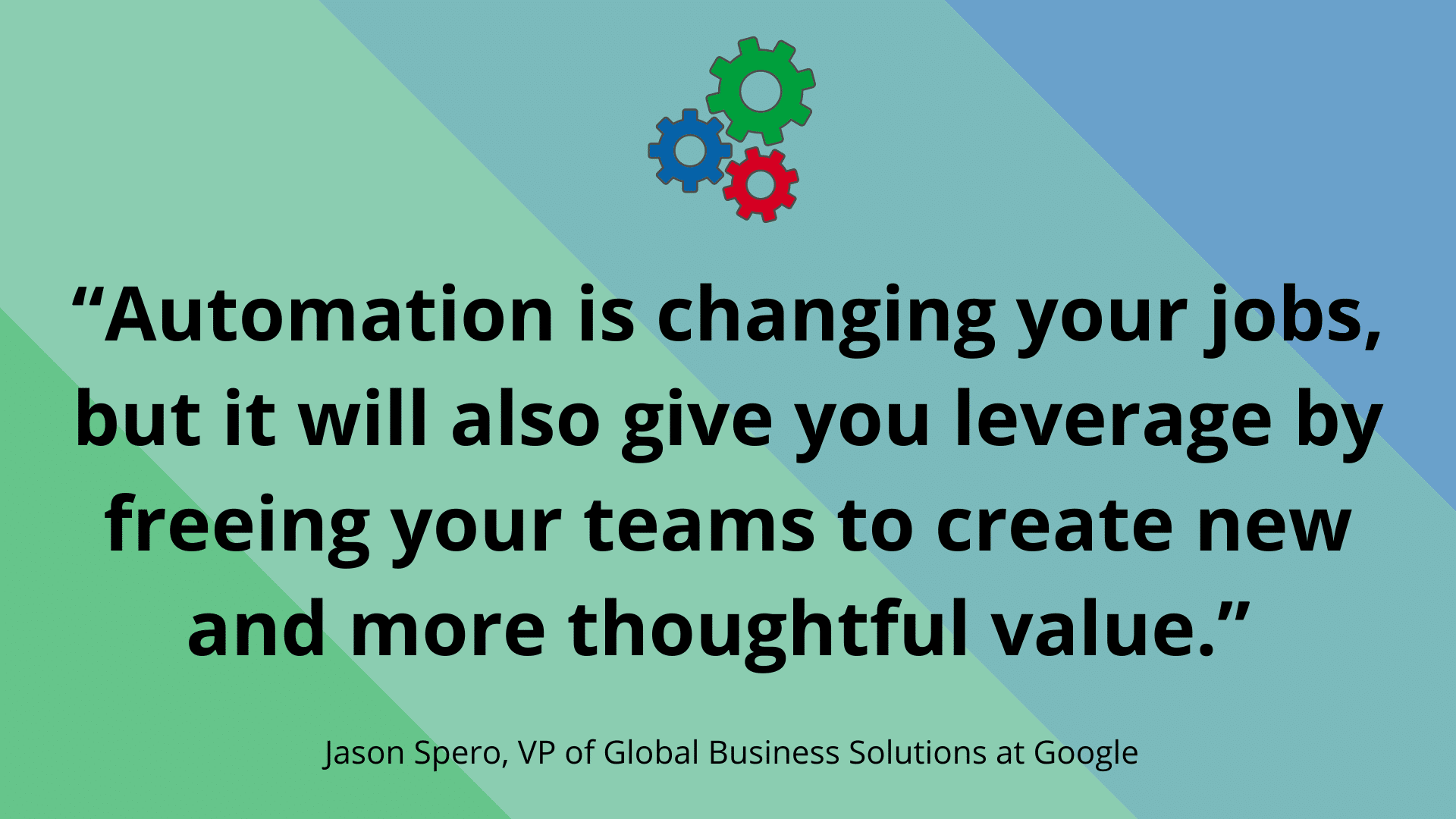 Case Studies and Real-World Examples
In the final part of the keynote, Google showcased case studies and real-world examples of businesses adapting to current trends and preparing for the future. 
Business leaders like Jim Farley, President and CEO of the Ford Motor Company, and Kory Marchisotto, CMO of e.l.f. Beauty and President of Keys Soulcare, detailed tactics their companies have used to transform for the future and drive innovation. 
This conversation features Alicia Keys, who discussed the development of Keys Soulcare, a clean skincare and wellness brand she created in partnership with e.l.f.
The Google Marketing Livestream keynote concluded with Emmanuel Acho. The former NFL player described how he's been able to leverage YouTube to "amplify true, genuine content" and have authentic conversations about race. 
He emphasized the importance of businesses being intentional with their words and actions in today's world.
"If we navigate business without intentions, then we will navigate a meaningless business," Acho said. "It's easy to be successful. It is hard to be significant."
Additional Videos
In addition to the keynote recapped above, Google Marketing Livestream 2021 offered a number of 10-20 minute videos on more specific topics such as marketing objectives, the future of different verticals, and more. Explore those videos here.