What are Local Services Ads on Google?
Google's Local Services Ads showcase local businesses and service providers at the top of the search results page. Local Services Ads grab users' attention with images, reviews, business hours, and more in a concise and easy-to-read format.
By allowing users to easily see, compare, and contact service providers in their area, Local Services Ads offer businesses a chance to grow brand awareness and win new customers.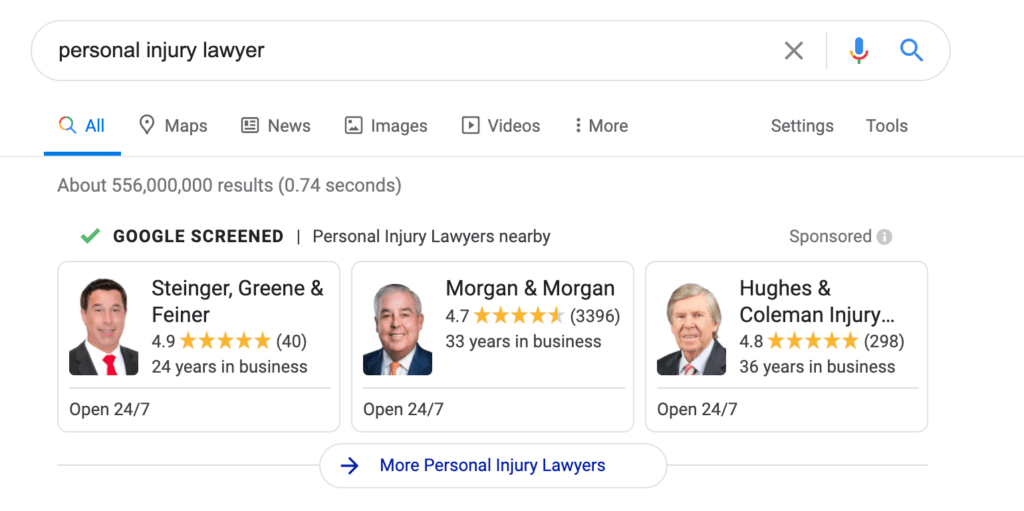 How Do Local Services Ads Work?
Local Services Ads show up based on a variety of factors, including the context of the user's search, the review score of the business, the quantity of reviews the business has, the proximity of the company to the user, and more.
Users who click an ad are taken to the company's Local Services profile, where they have the opportunity to reach out via phone or messaging. 
Unlike other ad formats in which you pay per click, Local Services Ads are pay-per-lead. This means that if you advertise with Local Services Ads, you'll only pay when a potential customer contacts you.
Furthermore, you can set a "monthly max," which ensures you won't spend more than your set budget.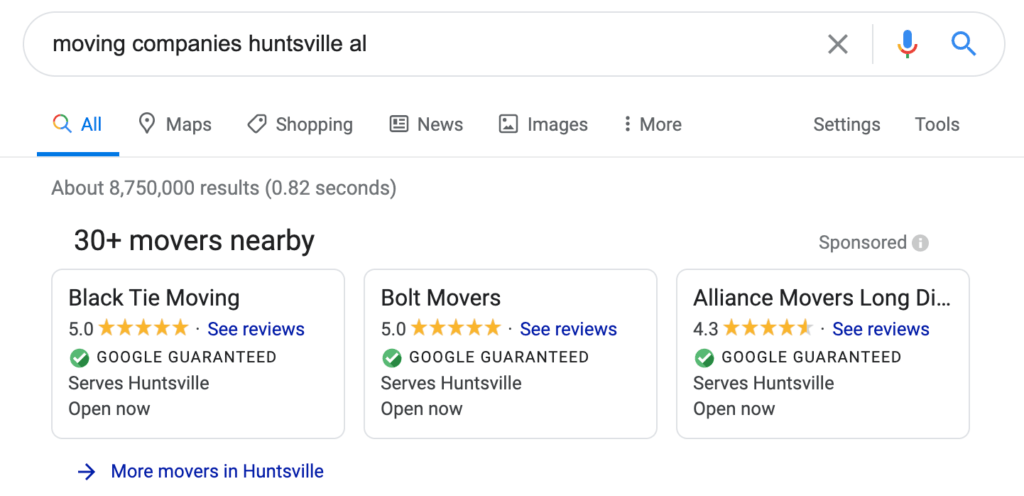 What are the Green Check Marks?
The green check mark in a Local Services Ad represents one of two certifications from Google: 
Google Guarantee

Google Screened
Once a company signs up for Local Services Ads and completes a screening and qualification process, they receive the Google Guarantee badge. The Google Guarantee offers a reimbursement for customers if they are dissatisfied with the service they receive. The reimbursement would come directly from Google, covering a customer's costs up to a certain point (the lifetime limit in the U.S. is $2,000).
Thus, the Google Guarantee badge offers a trust signal to consumers and provides an incentive for them to choose your business. 
Businesses may also be eligible for a Google Screened badge. Available only to select verticals such as Law, Financial Planning, and Real Estate, businesses can earn this badge by completing extensive background and license checks from Google. 
Similar to the Google Guarantee badge, the Google Screened badge acts as a trust signal to consumers, ensuring them that the business they see in the Local Services Ad is legitimate. This can increase a company's chance of winning the click and earning new business.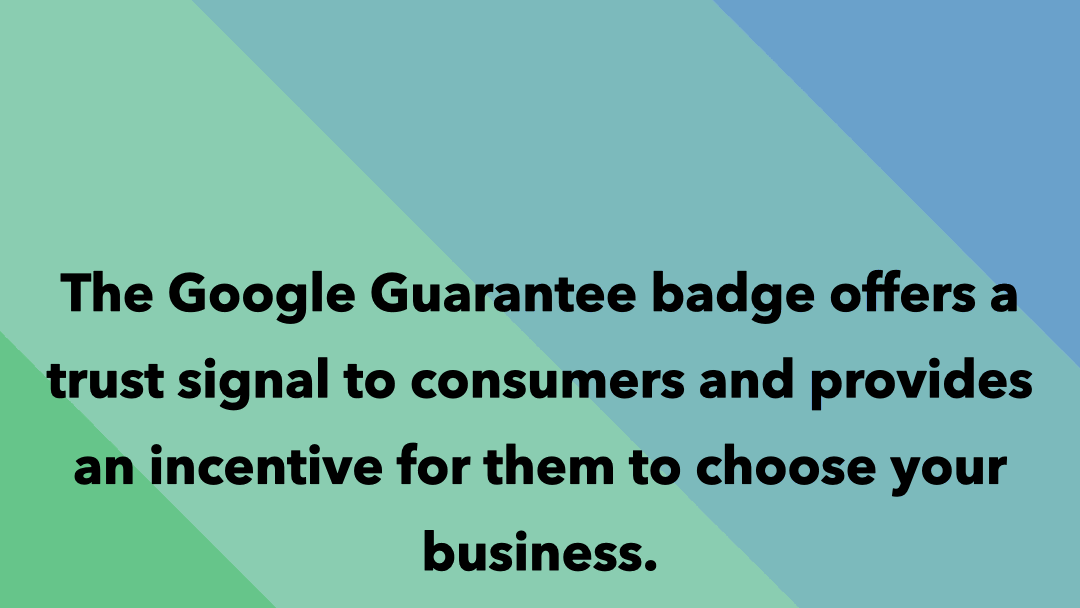 Where Do the Reviews Come From?
The reviews that appear in your Local Services Ad come from your Google My Business profile. However, you can also collect reviews directly through the Local Services platform. If the review comes from a user who found you and booked your services through Google, it will show a "Google verified" label next to the review.
Local Services Ads will show an average star rating, with the opportunity for users to read specific reviews once they click to view your profile. Users may also click a "See reviews" link in the ad, which takes them directly to the reviews section of your profile.
Benefits of Local Services Ads
There are several advantages to Local Services Ads, such as prominently displayed trust signals. Positive reviews and the Google badges instantly establish credibility with consumers and give them confidence in your business. 
Additionally, Local Service Ads show up at the top of the SERP. Because they are the first thing users see, they can immediately influence a customer's buying journey. Since they show up to users in close proximity to your business, they're ideal for local companies who want to get in front of the right people at the right time.
The information displayed is relevant, easy to read, and helpful to the user. In a way, these ads serve almost as mini-Google My Business profiles. However, they're more concise and focused on the goal of driving leads.
Plus, the ads are attention-grabbing due to visual aspects like photos, reviews, and the Google badges. Combined with a position at the very top of the page, this is a huge advantage given how varied and competitive the SERP landscape has become.
Furthermore, the pay-per-lead cost model can be a good fit for many companies, especially when the business objective is to drive leads instead of, for example, website traffic. With this model, it's easy to understand (and communicate to superiors) what the business is getting for its advertising investment.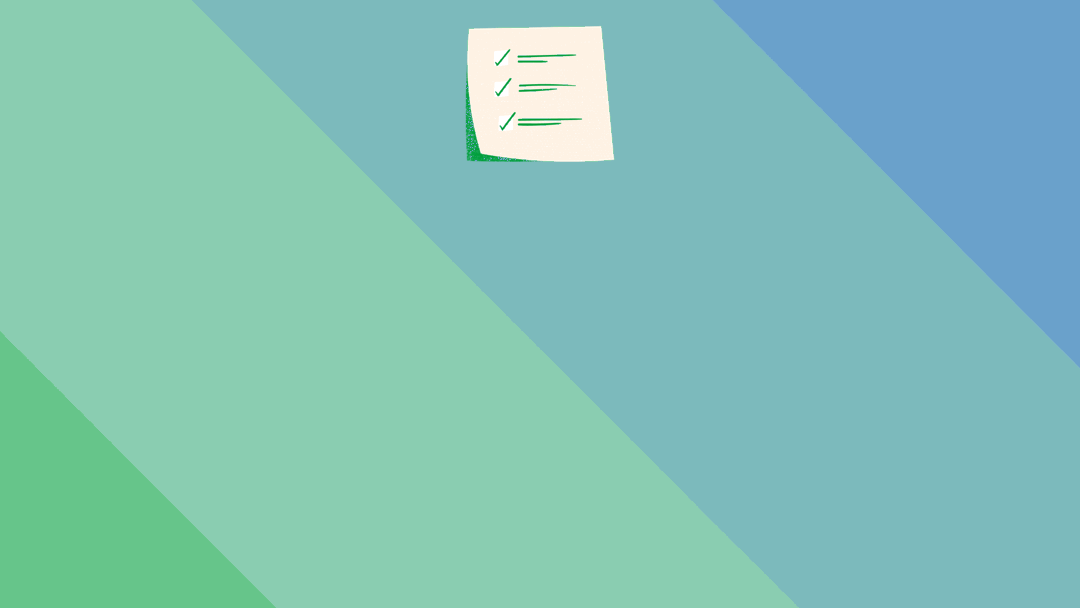 Who Can Use Local Services Ads?
Currently, Local Services Ads are only available to service-based businesses in select categories. In the U.S., companies in following verticals may be eligible:
Appliance repair services

Architecture services

Bankruptcy lawyer services

Business lawyer services

Carpet cleaning services

Carpenters

Cleaning services

Contract lawyer services

Criminal lawyer services

Countertop services

Disability lawyer services

DUI lawyer services

Electricians

Estate lawyer services

Event planning services

Family lawyer services

Fencing services

Financial planning services

Flooring services

Foundations services

Garage door services

HVAC (heating or air conditioning)

Immigration lawyer services

Interior designers

IP lawyer services

Junk removal services

Labor lawyer services

Landscaping services

Lawn care services

Litigation lawyer services

Locksmiths

Malpractice lawyer services

Movers

Personal injury lawyer services

Pest control services

Photographers

Plumbers

Real estate lawyer

Real estate services

Roofers

Siding services

Tax services

Traffic lawyer services

Tree services

Videographers

Water damage services

Window cleaning services

Window repair services
You can check here to see if your business is eligible.