In 2020, there have never been more opportunities for companies to use digital marketing to engage consumers and generate growth.
However, for many businesses, navigating the online marketing world is challenging. A lot of times, in-house marketers are pulled in so many directions, they simply don't have the time or resources needed to make use of the numerous internet marketing tools available.
In these cases, businesses often end up asking, Should we hire a digital marketing agency?
There's no one-size-fits-all answer to that question, but for many companies, an agency can make a big impact.
For businesses exploring this idea, here are 5 benefits of hiring a digital marketing agency.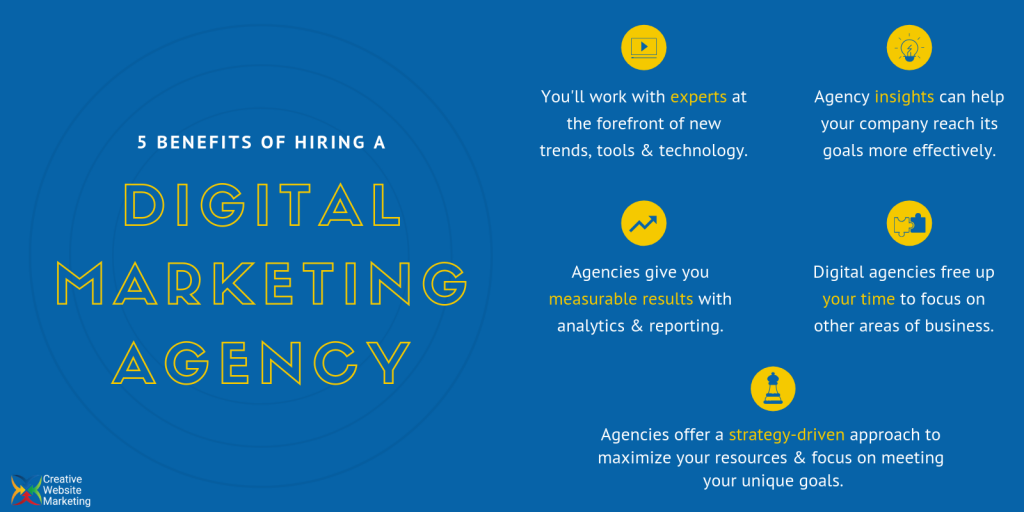 Digital Expertise
As mentioned above, in-house marketing teams are often pulled in many different directions. They may have to handle a variety of advertising efforts like TV ads, print media, direct mail, brand management and other responsibilities in addition to digital marketing.
Because internet marketing is multifaceted and continually evolving, it's a challenge for many businesses to learn and capitalize on all the new platforms and technologies that arise, while also managing existing campaigns.

Thus, many companies find it helpful to work with an agency that specializes in digital marketing. Employees at these agencies have the expertise needed to maximize internet marketing efforts, including budget.
It's an agency's job to stay at the forefront of trends such as voice search, tools like custom intent audiences, new advertising opportunities like Reddit, platform updates such as the Bing Ads rebrand, and the latest technology such as artificial intelligence and machine-learning.
Agencies also have access to specialized tools to aid in research, testing, analysis, reporting, and more. Leveraging these tools is another way an internet marketing agency can really help set your business apart from competitors.
Helpful Insights
With their expertise and ability to give digital efforts detailed attention, agencies will often identify ways to optimize campaigns and increase efficacy.
Examples of these insights include opportunities to:
Reach more of your target audience

Reduce wasted media spend

Increase qualified leads

Automate processes

Inform decisions with data

Capitalize on artificial intelligence
Recommendations and insights can help businesses refine their campaigns, spend money wisely, and reach audiences more effectively.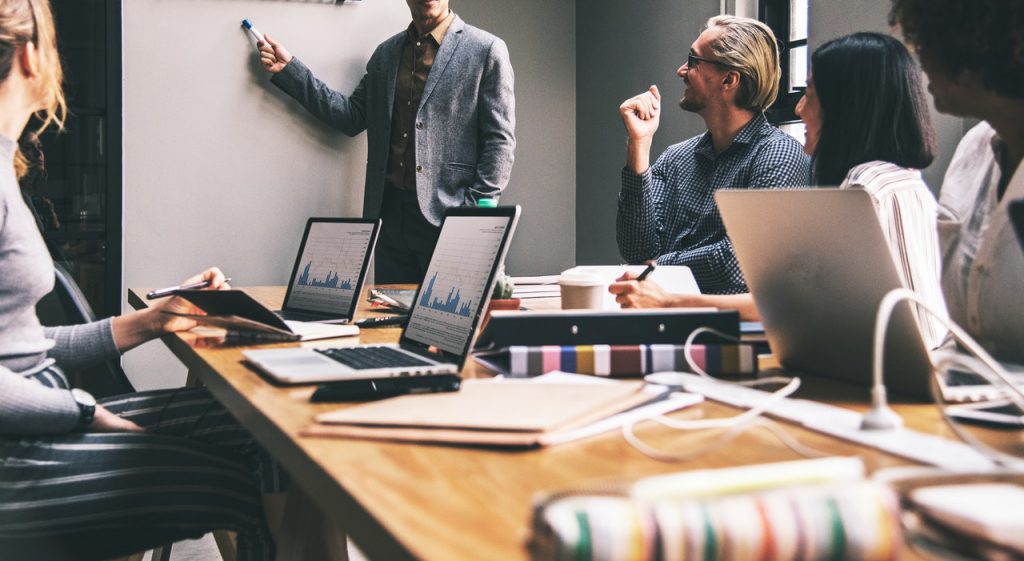 Measurable Results
A huge benefit of hiring a digital marketing agency is the ability to see measurable results. Using tracking, analytics and reporting, digital marketing companies can monitor their efforts and evaluate performance.
In addition to basic metrics like ad clicks and cost-per-click (CPC), agencies can track specific user actions and key performance indicators (KPIs) based on your company's goals.
Tools like Google Tag Manager enable agencies to track phone calls, form submissions, website clicks and more that result from digital marketing efforts. Furthermore, Google Analytics provides metrics like bounce rate and session duration that measure user behavior and engagement.
Reporting tools such as Google Data Studio allow agencies to transform the complex data they've collected into visual, easy-to-understand reports. Ideally, the agency will be willing to walk through the report with you or summarize the results if needed.
How are these reports helpful to your business? Reporting helps identify which strategies are working well and which have opportunities for improvement. This not only holds the agency accountable but gives your business the data it needs to inform future decisions.
Examples of using data to inform decisions:
If your quarterly report shows Facebook ads are driving more form conversions at a lower cost than your ads on Twitter, you may choose to re-allocate some of your budget from Twitter to Facebook.
Your Google search ads are driving a large volume of mobile users to your website, but they're converting at a lower rate than on desktop. You may need to check your mobile site speed or optimize your mobile landing page to drive conversions.
With measurable results, businesses can see the impact of their online marketing efforts and let that data guide their actions going forward. This helps companies be as strategic and efficient as possible. Therefore, this is a tremendous benefit of working with a digital marketing agency.
Frees Up Your Time
Digital marketing is complex. It takes time to learn different online tools, time to utilize different media platforms, and time to manage a variety of campaigns. When businesses are juggling numerous responsibilities, effectively executing digital marketing efforts can be a challenge.
Content creation, SEO, Google My Business listings, social media posts, A/B testing, Google Ads account management… All of these things are important, but they take time– especially to do them well.
When a company outsources its digital marketing activities to an agency, therefore, it frees up a significant amount of time for its employees.
As a result, in-house marketing teams will have more time to focus on other tasks and projects. This opens up opportunities for increased productivity not only on the digital side but in other aspects of your business as well.
Strategy-Driven Approach
Effective digital marketing agencies use strategy to craft their approach. What exactly does that mean?
It means that the agency first and foremost identifies your company's goals. They examine what's currently working, what's not, and which services they can offer to help you meet your objectives.
Rather than taking a cookie-cutter approach, high-quality agencies will cultivate a customized strategy that's based around you. When an agency puts your needs at the center of what they do, you've likely found a good fit.
A strong strategy lays the foundation for everything else. The services you receive from the agency will be purposeful and intentional, driven by achieving your goals.
All of the factors listed above help agencies execute strong, strategic digital marketing efforts to help maximize your resources and meet your unique goals.
Interested in learning more about digital marketing services? Contact Creative Website Marketing today!
Creative Website Marketing is a digital marketing agency in Nashville, TN, helping businesses throughout the country execute strategic brand awareness + lead generation efforts.