Last week, Instagram rolled out Instagram Checkout, a new feature allowing users to purchase items without ever leaving the platform.
How does Instagram Checkout work?
Previously, when a user would tap a product tag in a post, Instagram would direct them to the retailer's website to continue shopping. Now, users will instead be prompted to checkout directly on Instagram.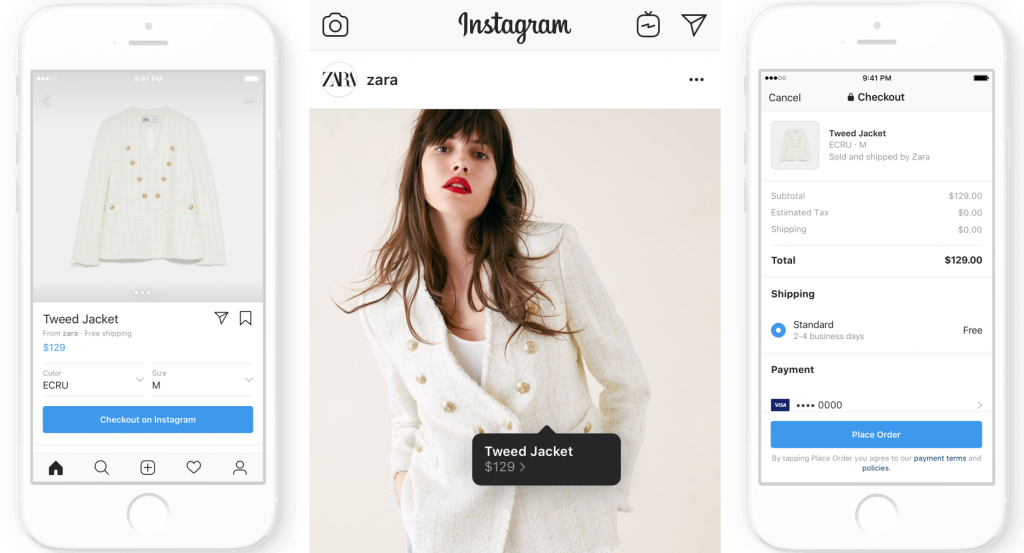 Image courtesy of TechCrunch
Once you've made your first purchase, Instagram saves your address and payment information. After that, all that's required to complete an order is to select the specifics of an item (for example, color & size), and hit the checkout button.
Along with in-app purchasing, Instagram Checkout will enable users to track their orders and manage any returns or communication with brands, all without leaving the app.
When users make an in-app purchase, Instagram charges a "selling fee" to the merchant. This opens up a new revenue stream for the platform and passes on transaction costs to the sellers rather than consumers.
Despite this seller's fee, businesses will likely still be drawn to using Instagram Checkout. The immediate & seamless checkout process results in a shortened buying journey. This means there's less time for a shopper to abandon a purchase once they've made the decision to buy.
What products can I buy through Instagram Checkout?
Currently, Instagram Checkout is only available in the U.S. and exclusive to products from 20 select retailers, including Michael Kors, H&M, Kylie Cosmetics and Nike. However, Instagram has stated that more brands will soon be added to this list.
See below for a complete list of partner brands for Instagram Checkout:
Adidas

Anastasia Beverly Hills

Balmain

Burberry

ColourPop

Dior

Huda Beauty

H&M

KKW Beauty

Kylie Cosmetics

MAC Cosmetics

Michael Kors

NARS

Nike

NYX Cosmetics

Oscar de la Renta

Outdoor Voices

Ouai Hair

Prada

Revolve

Uniqlo

Warby Parker

Zara
How will Instagram Checkout affect digital marketing?
While this feature is brand new and exclusive to a handful of retailers, it signals the future direction of social media. In an effort to break into commerce and compete with sites like Amazon, social platforms will likely feature more buying options like this as time goes on.
As the in-app checkout option expands to include more brands and, potentially, paid ads, marketers will need to adapt their social media strategy to capitalize on users' buying intent.
Currently, Instagram Checkout is only available for products shown in organic posts. Nevertheless, this feature is likely to drive more businesses to focus on Instagram as a platform to market their products – using both organic posts and paid ads.
Want to learn more about social media marketing & other areas of digital advertising? Let's talk strategy. Contact Creative Website Marketing today!
Creative Website Marketing is a digital marketing agency in Nashville, TN, helping businesses throughout the country execute strategic brand awareness + lead generation efforts.