What are Google's New Auto-Generated Video Ads?
Google Ads recently launched a new feature for responsive display ads, in which the platform will use your images, headlines and descriptions to create auto-generated video ads.
This exciting new feature allows advertisers to capitalize on the effectiveness and popularity of video without having to create separate video ads.
Especially for advertisers who don't have the resources or capabilities to produce their own video content, Google's auto-generated video ads can open up a new level of engagement with prospective customers.
How to Enable This New Feature
This new option is available for any responsive display ad with at least 1 logo and either 3 landscape or 4 square images. 
To make sure this feature is enabled in your Google Ads account, click to edit any responsive display ad and look under the dropdown called Additional Format Options. There, you will see 3 check boxes, the second of which is the option for auto-generated videos.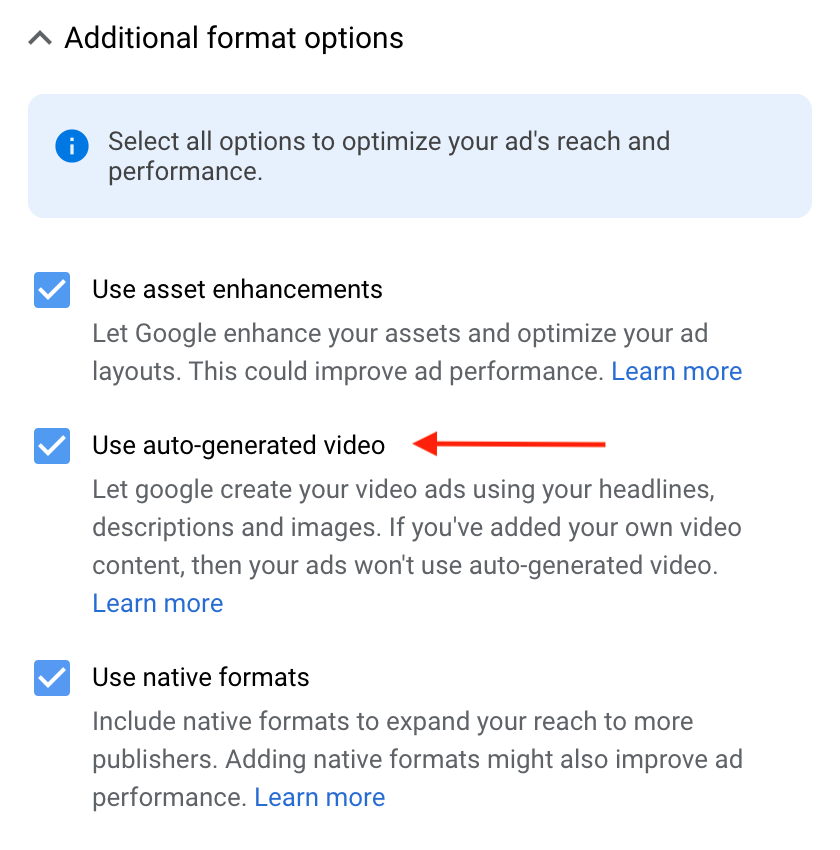 New responsive display ads will have this check box selected by default. However, ads that were created prior to the launch of this feature do not have this box automatically checked.
Thus, advertisers who want to take advantage of auto-generated video ads will need to manually go into their existing responsive display ads and check the box.
Once you select this feature, click Save. Then, the ad will have to be reapproved by Google.
Where Will Auto-Generated Video Ads Show?
Because these video ads are a new format option for responsive display ads, they will show up across the Google Display Network (GDN). Comprised of more than 2 million websites, videos and apps, the GDN reaches over 90% of internet users.
Unlike other products that Google has released recently, such as gallery ads and image extensions, this feature is not specific to mobile devices. Instead, auto-generated video ads will appear on both desktop and mobile.
Below is an example of what these ads may look like on mobile.
Should I Use Auto-Generated Video Ads?
Advertisers should start taking advantage of auto-generated video ads immediately. Video is not only engaging; it's also extremely effective for marketing and advertising. 
According to Hubspot, 88% of video marketers report that video gives them a positive ROI. 
On the consumer side, 54% of people want marketers to generate more video content. Plus, 72% of customers prefer to learn about a product or service through video. 
Therefore, using auto-generated video ads is an easy way to engage prospective customers and increase the performance of your Google Ads display campaigns. 
When coupled with targeting methods like in-market or custom intent audiences, these ads will be even more effective.
If you aren't already using responsive display ads, find out how to create them here: