As businesses begin to open following coronavirus lockdowns, navigating the best online lead generation strategy can be a challenge. However, several SEM and SEO tactics can help businesses get more leads during this challenging period. 
Our digital marketing agency has been able to help our clients pivot quickly to get more leads in these unprecedented times, and we want to share what we've seen work. Lead generation in general is complex, so these steps should help position your business for success.
We've worked with a wide variety of industries including healthcare, insurance, multi-location service businesses, energy, banking, higher education, industrial equipment and supplies, manufacturing B2B e-commerce, franchisees with hybrid-audiences, and more.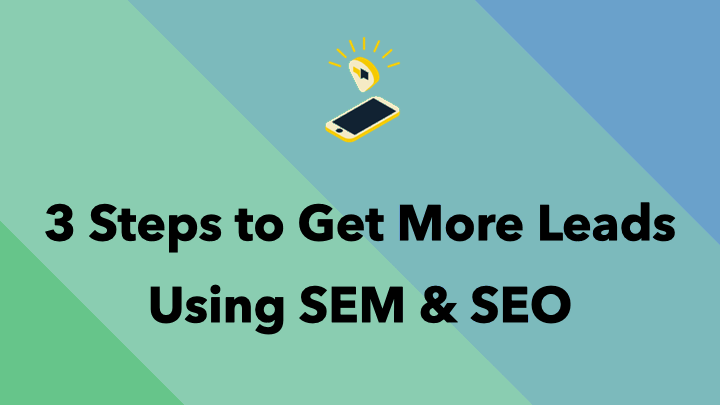 Step 1: Understand Key Sales Metrics & Profit Margins
Lead generation can be very challenging, especially for high-dollar services and products. Since the goal of generating leads is to drive business profit and growth, it's important to understand key metrics by answering the questions below. Determining if these metrics have changed during the pandemic can help you factor in the impact of COVID-19.
What is your average close rate?

What is your average value per close rate?

What is your average profit margin?

How many leads do you need to obtain a new customer?
Once you are armed with the right data, you can have it on hand as you work through the remaining steps.
Step 2: Understand the Internal Marketing Landscape
To increase your brand visibility online, it's important to first understand the current marketing landscape.
Historically, what marketing tactics have driven qualified leads?

What percentage of gross revenue is allocated to marketing?

Does your website make it easy for prospects to understand your business?

Is there an incentive for prospects to take the action and reach out?

Does your website lead data integrate into your CRM?

Do you have full access to your website?

How many leads do you currently generate from organic & paid channels?

What is the lead nurturing process currently? Email drip campaigns, etc.?
According to Web Strategies, Inc., a recent Forrester Research report projects that digital marketing will make up approximately 45% of all ad spend in 2020. Of course, the number can vary depending on factors that include industry, growth plans and local market. 
Due to the pandemic, businesses have unused marketing budgets that were previously allocated to events, trade shows, print, outdoor and in-store advertising, and more. This budget should be shifting towards digital, which is currently under-funded given the amount of time people are spending online.
Once you understand your internal marketing landscape, you will be able to determine any barriers to defining the internal and external resources you need to help the lead generation strategy process move forward. 
Examples could be improved tracking capabilities, outsourcing digital marketing to specialists, improving access to your website and understanding MarTech processes.
Step 3: Determine the Right Digital Strategy
As prospects and customers are working from home, they are spending even more time on Google, Facebook and YouTube, so being visible on these major platforms are a key to lead gen success online. 
Now that you understand your current marketing landscape, you can start to determine your ideal lead generation goals. Then, you can apply formulas to find the best digital strategy for your business.
Define lead goals to drive marketing qualified leads to result in business growth

Lead goals should be defined for specific services or products

Gain competitive intelligence on top online competitors

Determine test budgets by channel, driven by leads needed to drive profit

Develop a channel strategy, beginning with baselines

Outline the entire prospect experience (messaging, offers, landing page, tracking)

Tactic plan set up (SEM: Google Ads, FB Ads, etc. | SEO: Geo, SERP features, etc.) 

Set up tracking for each channel

Set up reporting for each channel

Manage and optimize for ongoing learning, improvement and long-term strategy
There are channel formulas you can use to begin to set your test budgets. 
For paid advertising, this is a good one to start with. You can either apply historial campaign data from or start with industry benchmarks and adjust based on your actual test campaign data. This is where your specialized digital agency or in-house resources can refine performance to improve these metrics over time which ultimately contribute to driving more business growth.
(Leads x Avg CPC) / Avg Conversion Rate = Media Spend
You can also monitor the profitability of advertising campaigns and platforms using this lead generation formula. The actual data, gained from your testing strategy, will allow you to see how profitable paid advertising can be in driving business growth.
((Conversion Leads) * (Average Lead Close Rate) * (Average Value per Close) * (Profit Margin)) – Cost = Profit
Once you define the right approach to develop the best strategy per channel, you'll be able to determine the expertise needed to be positioned for success, setting milestones and leveraging specialists to deliver on business growth.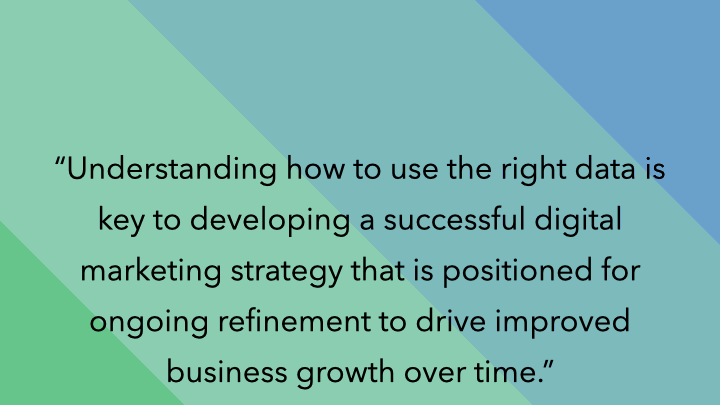 Understanding how to use the right data is key to developing a successful digital marketing strategy that is positioned for ongoing refinement to drive improved business growth over time. We've audited hundreds of clients' paid advertising campaigns and have seen thousands of  dollars in wasted spend, mostly due to a lack of strategy that is relevant to the current environment and aren't set up properly to deliver on goals related to driving business growth. 
These steps can help guide your approach to developing a solid lead generation strategy. If you are looking for a specialized lead generation agency to drive growth for your business, we offer a FREE strategy consultation and would be happy to talk with you. Contact us today.