Responsive display ads are a relatively new offering in Google Ads. Learning how to create responsive display ads can save marketers time while boosting campaign performance. 
Below, we describe how to create responsive display ads. First, however, it helps to understand exactly how these ads work and the advantages they offer over traditional display ads.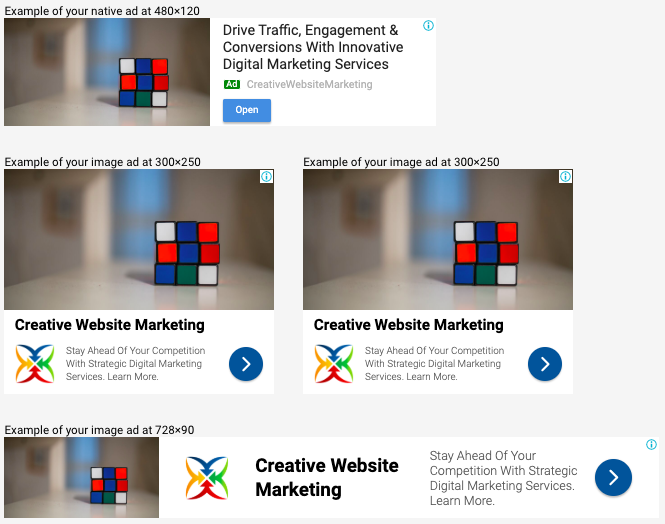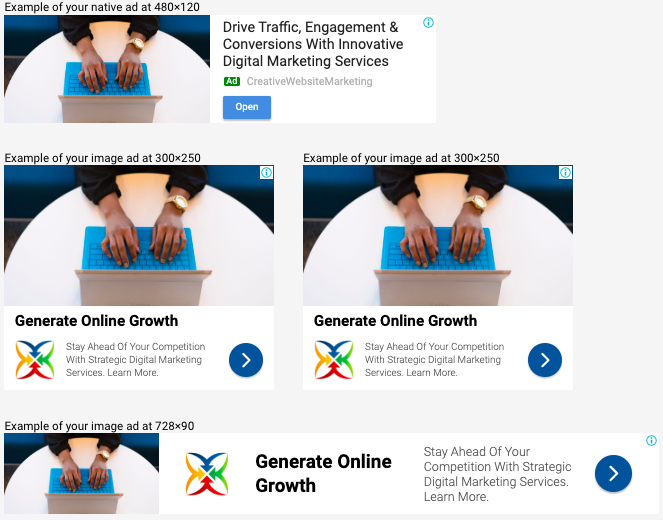 How Do Responsive Display Ads Work?
The two images above are examples of a responsive display ad. On the left, we see one version of the responsive display ad, shown in various sizes. It has an image, a headline, a logo, and a description.
In the second image, we see a new version which features the same logo and description, but a different photo and headline. 
Confused?
Here's how the process works:
You provide Google with multiple images, headlines and descriptions. 

Google mixes and matches them to create different versions of your ad, which show up throughout the Google Display Network (GDN). 

Over time, Google learns which combinations perform best. 

Google starts to show only the most effective versions of your ad.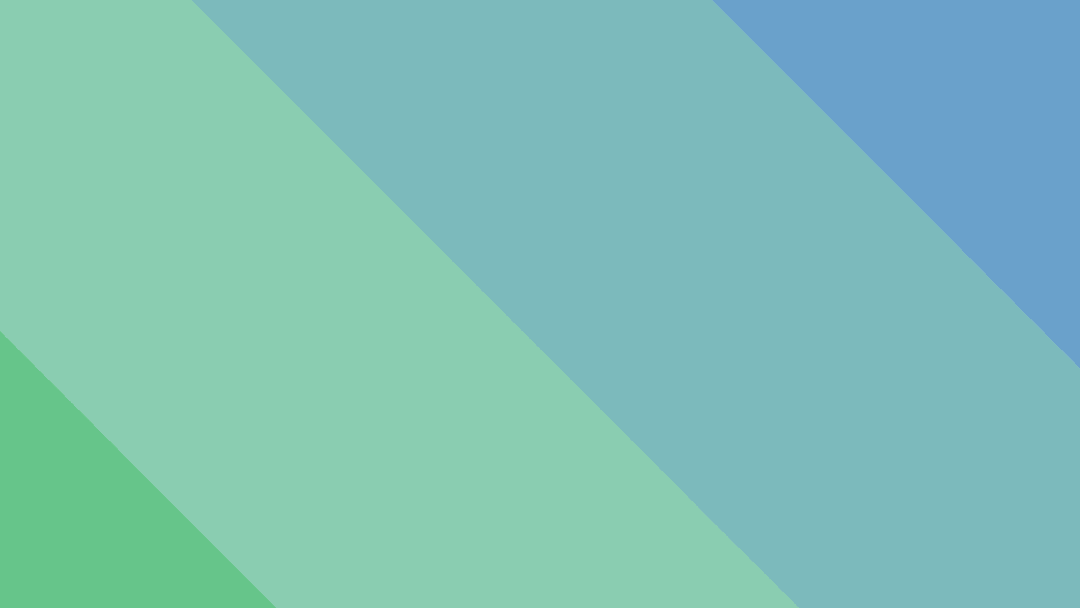 Advantages of Responsive Display Ads
Responsive display ads offer many advantages over traditional image ads.
For instance, when you upload an image ad, it can only fit into available ad spaces of the same size. As a result, to expand your reach, you have to create multiple different sizes of the same ad.
However, responsive display ads automatically adjust to available ad space. Thus, you only have to assemble one ad.
That ad can appear in a wider variety of websites and apps across the GDN than a regular image ad. This gives you a broader reach with less work.
According to Google, the GDN consists of more than 2 million sites and reaches over 90% of people on the internet. Thus, maximizing your reach across this network gives your campaign a tremendous advantage. 
Furthermore, another advantage of responsive display ads is the automatic optimization. 
Similar to responsive search ads, responsive display ads use artificial intelligence (AI) to determine the best possible versions of your ad. 
This means that Google tests different versions of your ads and uses machine learning to determine which version works best. Over time, it prioritizes the most effective versions.
Because this process happens automatically, it saves marketers time and effort. Instead of having to create multiple different ads, test them out, and analyze their performance, Google does it all for you. 
These advantages demonstrate why you should incorporate responsive display ads into your campaigns as soon as possible.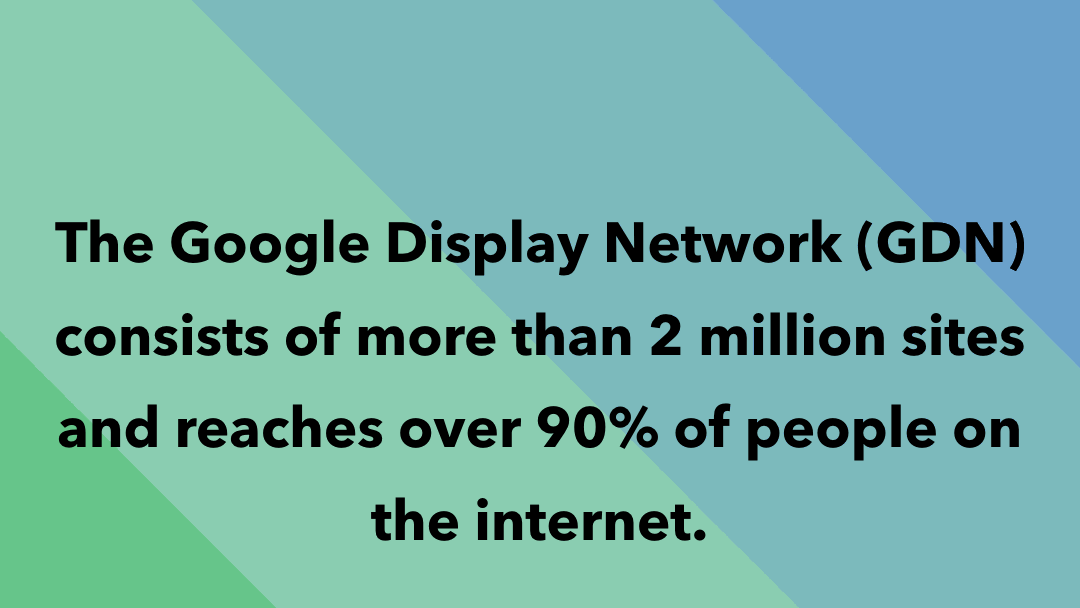 Responsive display ads are, of course, most effective when paired with the targeting options available in Google Ads, such as:
Location targeting

Demographic targeting 

In-market audiences 

Topic targeting (and topic exclusions)

Remarketing lists
Thus, make sure your campaign has appropriate targeting methods in place to help maximize budget and ensure your ads reach the right people. 
How to Create Responsive Display Ads
  Photos | Up to 15
Google requires at least one landscape and one square photo for responsive display ads. You may upload up to 15 images total. 
Landscape photos should have a 1.91:1 ratio and be greater than 600 x 314. Square photos, on the other hand, need to have a 1:1 ratio and be greater than 300 x 300 pixels. 
Google gives you the option to crop landscape photos into a square size, if the original image is large enough. 
Keep in mind that images may be cropped up to 5% on each side to fit into the available ad space. If your photos include text of any kind, that's fine as long as the text covers no more than 20% of the image.
Prioritize high-quality, attention-grabbing photos. Your ad will appear to users while they're doing other activities on the internet, such as reading an article, playing a game, or watching a video. Therefore, you want the images you use to catch the eye of your audience, and resonate with them in a meaningful way.
 Logos | Up to 5
Logos are optional for responsive display ads. However, we highly recommend them. Having your logo featured across the GDN boosts brand awareness and adds another layer of visual appeal to your ad. 
If you do use a logo, you must upload at least one in the square size. Square logos need to have a 1:1 ratio and be 128 x 128 pixels or greater. The recommended size is 1200 x 1200.
Google also recommends including a landscape version of your logo, as this orientation may work better in some ad spaces. Landscape logos should have a 4:1 ratio, with a recommended size of 1200 x 300.
For both photos and logos, the file size limit is 5120KB.
  Videos | Optional
In addition to photos and logos, you can also include videos in your responsive display ad. Google allows up to 5 videos per ad. 
The videos must be on YouTube, and last 30 seconds or less.
 Headlines | Up to 5
When creating responsive display ads, you must include ad copy in addition to image assets. 
Just like with a text ad, headlines have a limit of 30 characters. However, unlike a text ad, you can write up to 5 headlines. Only one headline will show up with each ad. 
As noted before, Google will pair your headlines with different photos and descriptions to find the best-performing combinations. This gives you the freedom to try out different headlines and experiment with messaging. 
Google will test them and determine which ones work best, without you having to lift a finger.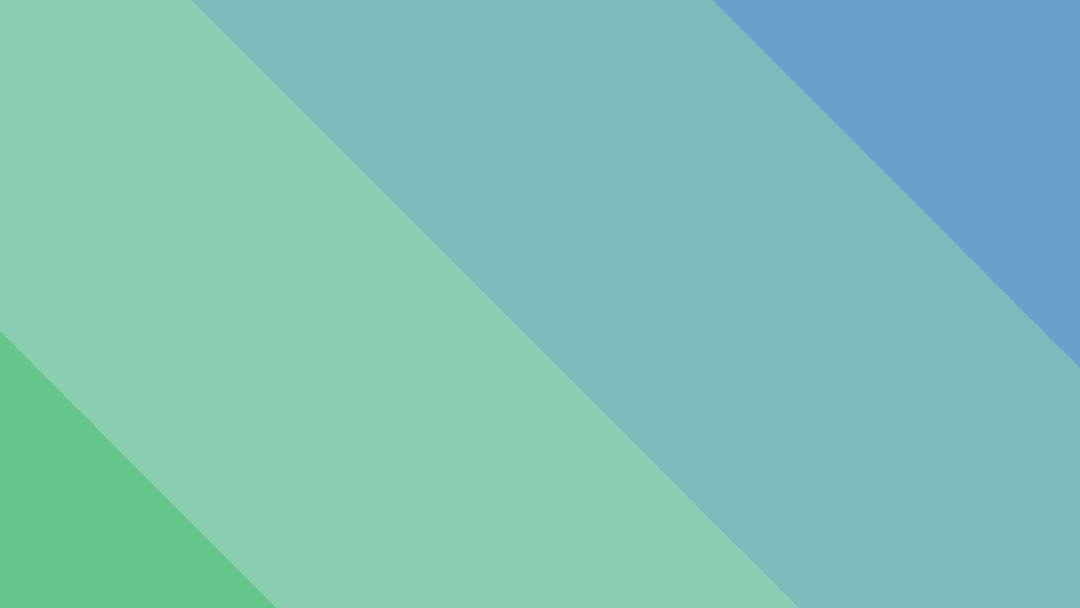 Long Headline | Only 1
In larger ad sizes, the long headline will appear instead of your 30-character headlines. You only write one long headline when creating your ad, and it must be 90 characters or fewer. 
The long headline may appear with or without a description. Therefore, make sure your long headline would pair well with any of your descriptions.
  Descriptions | Up to 5
Descriptions offer you the chance to highlight unique and enticing aspects of your business. With a 90-character limit, you have room to showcase what sets you apart your from competitors. 
We also recommend including a call to action at the end of your descriptions, such as Request a Quote, Sign Up Today, or Download Now. 
Just as with the headlines, you can write up to 5 descriptions. Only one description will appear per ad. Therefore, don't worry about using similar language in multiple descriptions. 
For example, say you write a strong description but can't decide whether to end it with "Learn More" or "Shop Now." Create both versions of the description, and let Google test them out and determine which works best. 
   Finishing Touches 
When learning how to create responsive display ads, there are several smaller details that should not be overlooked. 
For example, Google requires you to enter your business name. This will appear in certain versions of your ad, which can help increase brand awareness. Note that the business name must be 25 characters or less, so if you have a long name, you may need to abbreviate. 
Also required is the final URL. This is the landing page you'll direct users to once they click on the ad.
Landing pages should be relevant to the ad and foster a positive user experience. Learn more about creating effective landing pages. 
Furthermore, there are optional settings you can find by clicking "More Options," just above the Save button. 
By clicking on "Custom colors," you can specify a main color and an accent color you want Google to use in the ad. These colors, entered by hex code, determine the color of certain ad elements.
In the example below, the main color is set to yellow, and the accent color is set to blue.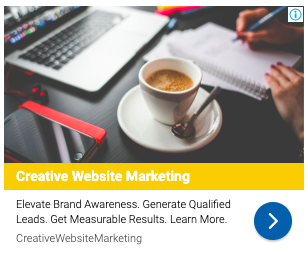 You can also specify the call to action text you want to appear on ads that have a call to action button. Google offers a dropdown list that includes:
Apply Now

Contact Us 

Install

Learn More

Visit Site

Get Quote 

See More
If you don't select which call to action you'd prefer, Google will automatically try out different ones. 

Once you've uploaded the image assets, written the headlines and descriptions, and implemented any additional settings, you're all finished!
Click Save, and wait for Google to approve your ad. The approval process usually takes around 24 hours.
Reviewing Performance 
After your responsive display ad has collected enough data, you can actually view the best-performing versions of your ad. 
Here's how:
Go to the Ads & Extensions tab

Find the ad you want to review

Click on the "View Asset Details" link

Toggle to the "Combinations" tab

View the top-performing combinations