Digital marketing updates happen rapidly in 2019. Smarter tools emerge, advertising platforms update, and new trends disrupt the industry.
To stay effective and competitive, online marketers and businesses need to keep up.
Below, find the latest changes in digital marketing – updated to reflect 3rd quarter trends, statistics, and news.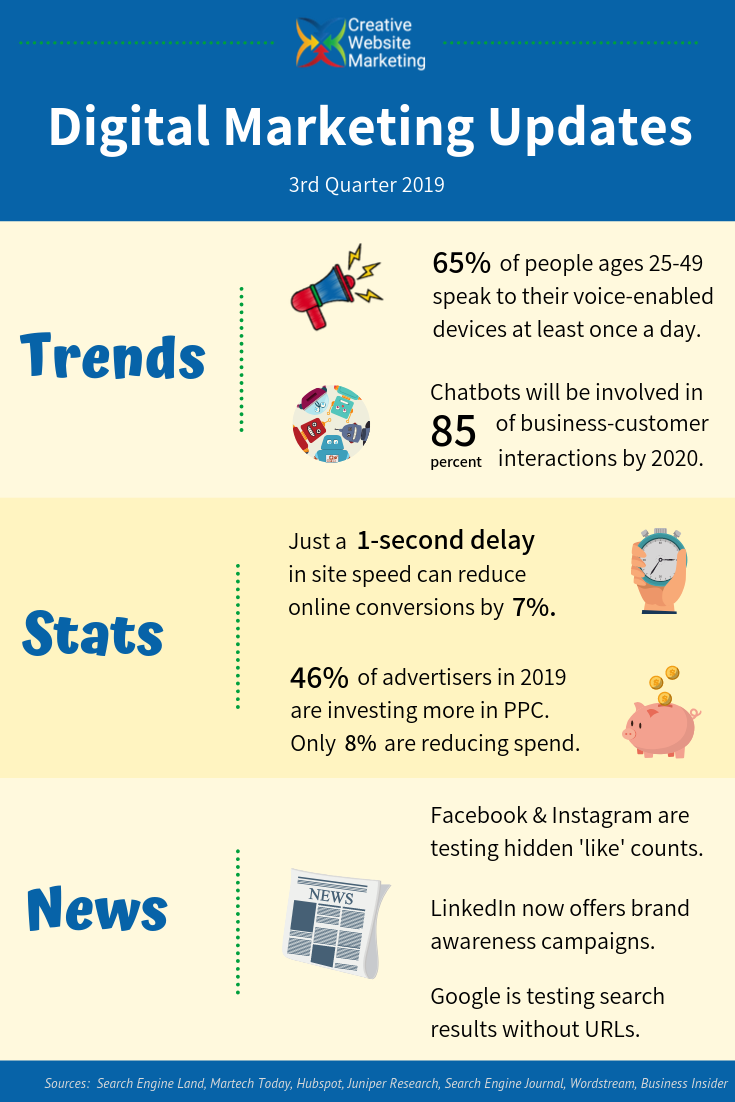 Latest Digital Marketing Updates
Trends
65% of people ages 25-49 speak to their voice-enabled devices at least once a day. With the prevalence of digital assistants and the rise of voice search, we expect this trend to continue.

Experts predict chatbots will be involved in 85% of business-customer interactions by 2020.
Statistics
Just a one-second delay in site speed can reduce conversions by 7%. Learn more about this and other factors that can affect conversion rates in our article How to Create a CRO Strategy in 2019: 5 Actionable Tactics

.




46% of advertisers are investing more money in PPC this year. Only 8% are reducing their investment.
News
Facebook and Instagram are testing hiding the 'like' counts on users' posts. Business Insider reports that Instagram began testing this over the summer in seven countries, and Facebook is now testing it in Australia. Why are the platforms making these numbers less prominent? Instagram's head, Adam Mosseri, told BuzzFeed that taking away likes on the platform would help create "a less pressurized environment where people feel comfortable expressing themselves."
LinkedIn is now offering brand awareness campaigns that charge by impressions. According to Martech Today, the platform has added a total of three new features, plus an optimized click pricing option.
Google is testing search results in which a business' name shows up in place of the URL. Google has already implemented a variety of changes to the SERP recently, and it doesn't appear they're slowing down any time soon.
Check back in Q4 for more digital marketing updates! In the meantime, if you have questions about your online marketing efforts, reach out to Creative Website Marketing here.
Sources: Search Engine Land, Martech Today, Hubspot, Juniper Research, Search Engine Journal, Wordstream, Business Insider