Consumers are flooded with online marketing content on a daily basis, from the time they read the news in the morning to when they check social media before bed. In order to make content stand out, businesses must produce and promote creative content that encourages customer interaction.
Interactive content engages consumers by prompting them to take an action, whether it be posting a comment, clicking the re-tweet button, or visiting a certain webpage. Interactive content can be used on a variety of platforms to effectively boost brand awareness, drive business growth, and cultivate loyalty among consumers.

Engaging Emails
This new content marketing trend has the ability to bring innovative strategy to familiar marketing tools. Email exemplifies the transformative quality of interactive content. Marketers have used email to reach consumers for years; however, including interactive content in an email can add a new element of engagement, nurturing consumers' interest in the brand.
For example, a clothing company may send out an email to customers with the subject line, "Limited-Time Offer!" In the email, three vibrant icons of different gift boxes would capture the customer's attention. The email would instruct the customer to click on one of the three icons in order to receive a discount of 5, 10, or 25% off one item.
When the customer clicks on one of the gift boxes, they would receive a discount code for one of the designated amounts. To further motivate customers to use the discount, the offer is said to expire in 48 hours. Below the discount code is a button with the words "Shop Now," which, when clicked, takes the customer directly to the site to shop around.
Emails incorporating interactive elements such as those described above, as well as other techniques like animation, offer a refreshing take on an established marketing tool. However, interactive content can also be used on more recent platforms. For example, social media presents numerous opportunities for marketers to interact with consumers.
Invite Comments
Marketers can generate Facebook posts, tweets, and blog posts with the intention to create conversation among customers through comments and replies. The ability to respond to posts with a comment empowers consumers to share their opinions. It also shows that the business values the voices of its customers, demonstrating a commitment to customer service and fostering brand loyalty.

Images & Gifs
Other posts may be intended just to entertain and connect with consumers, rather than to create conversation. Marketers who, for example, tweet a fun image or gif to celebrate the fact that it's Friday, are using social media to relate to consumers. Online followers of the business may favorite or even re-tweet the post. This gives customers the chance to interact with the brand—while also giving them an idea of the brand's values and personality.
Heading into the weekend like…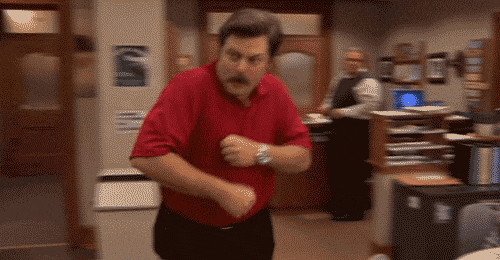 Polls
Polls also allow customers to interact with businesses and share their opinions. Marketers can pose questions on social media and create options from which customers can choose.
For example, a car dealership may tweet out a poll asking if people prefer the newly-released model of a certain car or the classic model. Other Twitter users can vote on and share the poll, exposing a larger network of individuals to the car dealership's information and Twitter page.

The new trend of interactive content also includes many other tools, such as quizzes and videos. This type of content can transform the way marketers approach their digital strategy.
By engaging customers in both entertaining and thoughtful ways, brands can not only reach consumers online but also make a genuine connection with them. Thus, this form of content can appeal to customers in creative ways that lead to brand awareness and loyalty, business growth, and overall success.
Check out the first blog post of this series, Beyond Blog Posts: Delivering Content Through New Formats, or keep up with the latest digital marketing trends by following us on Facebook, LinkedIn, and Instagram!
Creative Website Marketing is a digital marketing agency in Nashville, TN, helping businesses throughout the country execute strategic brand awareness + lead generation efforts.