Facebook recently announced several changes to the Ads Manager and Business Manager tools. According to the platform, these updates are intended to help businesses and PPC advertisers accomplish three goals:
Do more in less time 

Find new advertising opportunities 

Set up more effective ads
Outlined below, these changes will roll out gradually. If you don't see them in your account yet, you likely will by the end of the year.
Ads Manager Updates
Aimed to simplify user experience (UX) and streamline navigation, Facebook has introduced a consolidated, cleaner design to Ads Manager.
The re-designed navigation allows you to see your campaigns, ad sets, and ads in a single table by selecting the arrow icon. Meanwhile, the campaign, ad set and ad tabs will move from a horizontal view to a navigational sidebar on the left side of the dashboard. 
Facebook also merged the search bar and filter options into one feature. Thus, you can search for campaigns, ad sets, or ads directly, or filter to find them.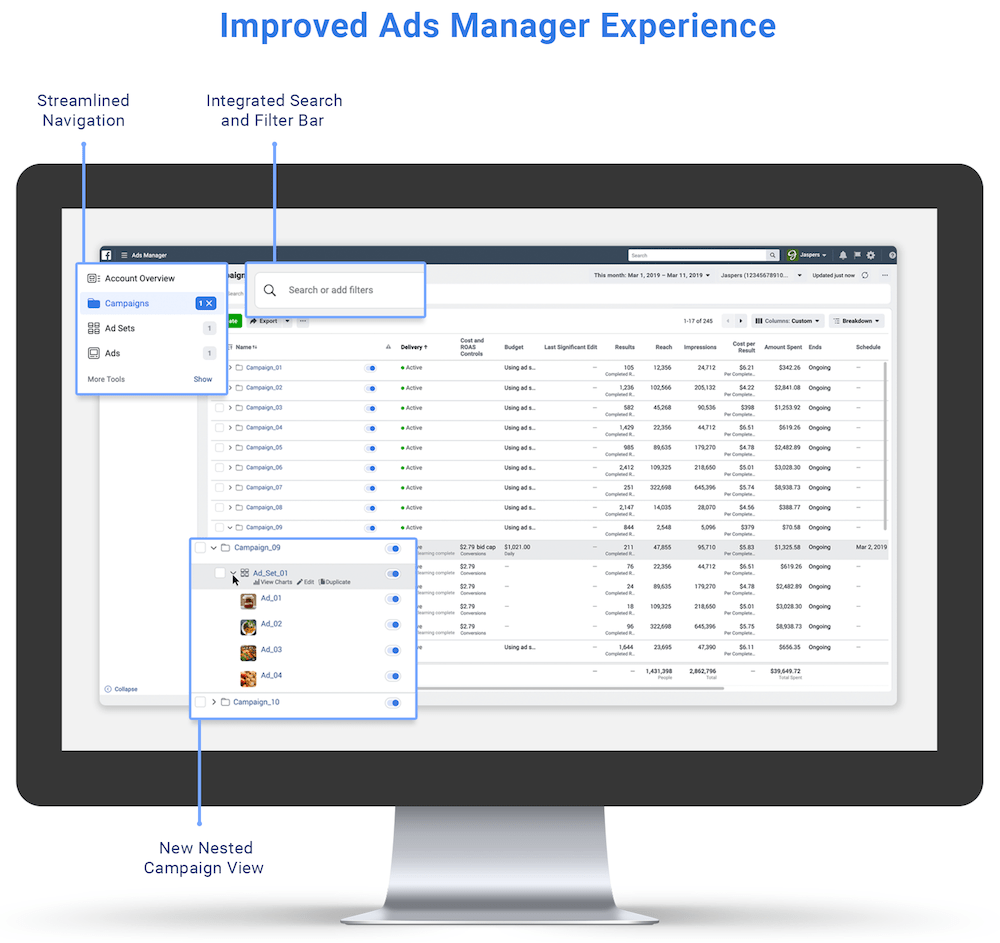 Furthermore, the collapsible editing and reporting window has been replaced by a side-by-side view, where you can interact with the main table or make edits. Additionally, the action bar will now only show your most commonly used actions. The other options will still be available, but hidden in a dropdown menu.
In addition to design updates, Ads Manager will see several functionality changes. For example, Facebook states it has made the editing and creation workflow more efficient, with reorganized input fields and a Media section that makes your options more visible. Plus, users will now be able to access ad placement previews from a clickable side bar.
Not a fan of change? You can opt out of the redesign by selecting "Switch to previous version" in the upper left corner of the screen. However, the option to revert back to the prior format is only available for a limited time, so we advise getting accustomed to the new look.
Business Manager Updates
Business Manager is also getting a new design, as well as some upgraded features. 
For example, with Business Asset Groups, users can more easily organize and group together assets such as ad accounts, pixels, and Pages. Geared toward agencies and Facebook Marketing Partners, the new Partner Onboarding feature makes it easier to onboard and manage clients. 
Like the revamped Ads Manager interface, the Business Manager redesign will strive to create a better UX. It will also help businesses discover new tools and easily access the features they need.
Is your business interested in advertising on Facebook? Learn about our Facebook Ads management services today.